Surya Namaskar (5)
Parvatasana (Mountain Pose)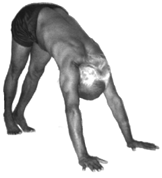 Associated Mantra:
"Aum Khagaaye Namah"
Pronunciation: "Om Kah-gah-yay na-mah-hay"
Translation: "Prostration to Him who moves in the sky."
Body Posture:
Facing downward, place the palms and the feet flat on the floor while extending the buttocks upward, bending at the hips.
Try to align the arms with the back, bending only at the waist, with the knees straight.
Breathing:
Half-way exhale through the nostrils. (Complete the exhale in the following posture.)
Mental Focus / Visualization:
Concentrate on Vishuddha - The 'Throat' Chakra.
Flatten the back, pushing shoulders and chest downward.
Specific Health Benefits:
Stimulates blood circulation to the brain.
Strenghtens the heart.
Releives tension in the neck and shoulders.
Strengthens the arms and wrists.
Variations:
You can remain in the pose for several deep breaths.
You can use the Bija Mantra: "Om Hraum" (Pr: Hrome) as an alternate when practicing more rapidly.
This posture is sometimes done with the body as a straight line, in the "Wheelbarrow" or "Inclined Plane" pose. [See: "First Steps to Higher Yoga", p.112]
---
Copyright (c) 1996 Prana Yoga Ashram. All rights reserved.