Chandra Namaskar (7)
Hanumanasana (Lord Hanuman Pose)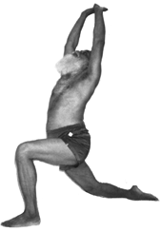 Associated Mantra:
"Aum Nishapataya Namah"
Pronunciation: "Om Nisha-pata-yay Na-mah-hay"
Translation:
Body Posture:
Extend the arms overhead, looking up.
Raise the right knee one or two inches above the floor.
This posture is the same as posture 4, with the positions of the legs reversed.
Breathing:
Complete the Inhale from the previous pose.
Mental Focus / Visualization:
Concentrate on Anahata Chakra - The 'Heart' Chakra.
Specific Health Benefits:
Increases flexibility and strength in the legs and pelvis.
Cures sexual ailments and increases flexibility prior to childbirth.
Develops confidence and courage.
Variations:
You can remain in the pose for several deep breaths.
---
Copyright (c) 1996 Prana Yoga Ashram. All rights reserved.