From the December 2009 Idaho Observer:
---
Cracking the Code: Justice Denied
Pete, the outcome of your trial is not surprising. The very few who have won in U.S. District Court were able to personally convince the jury of their innocence because of their sincerity. As in your case and many others, including mine, the actual tax laws and the violation of those laws by the IRS, were never understood or argued. I could be wrong, but you should save your proceed with the Appellate Court sui juris. You probably know more than any "appellate specialist" as you understand Title 26 better than they do. I am in my 2nd appeal in the 8th Circuit, as the Federal Pretender argued a weak "willfulness" case in the 1st appeal and lost. I fired the Defender before the Appeal and the Court wouldn't release her. My 392 page Appellant Brief can be purchased off http://pacer.com for less than $35.00 and you may find parts of it useful in your case. Go to BARKER, STEPHEN R., case number 09-2259. The brief is the 10th entry in the case.
I found it useful to file a Claim and Counterclaim against the United States of America (corporation), its agencies, its subcontractors and its employees. But don't think they won't retaliate as they did with me (transferring me from my nice camp in Duluth to the "disciplinary" low at Big Spring, TX.) The claim is an attachment in the Brief. Good luck and God bless you and your family.
Stephen Richards Barker
Big Spring, TX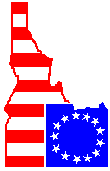 Home - Current Edition
Advertising Rate Sheet
About the Idaho Observer
Some recent articles
Some older articles
Why we're here
Subscribe
Our Writers
Corrections and Clarifications
Hari Heath
Vaccination Liberation - vaclib.org
---
The Idaho Observer
P.O. Box 457
Spirit Lake, Idaho 83869
Phone: 208-255-2307
Email: vaclib@startmail.com
Web:
http://idaho-observer.com
http://proliberty.com/observer/