Constitution Party Puts Weight Behind New Camp FEMA Film
New Documentary Film to Premier at National Party Conference as Canadians Storm Camp FEMA at Toronto Premier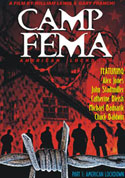 CAMP FEMA from producers William Lewis and Gary Franchi. Featuring:
Alex Jones
John Stadtmiller
Chuck Baldwin
Michael Badnarik
Catherine Bleish
Larry Pratt
Michael Shaw
James Lane
Jeffrey Grupp
Charlie Meadows
Sam Ozaki
Columbia, MO - Among gifted speakers like Tom Tancredo and Chuck Baldwin at this years 2009 Constitution Party National Committee Conference, attendees will also get their first peek at the popular new patriot film "Camp FEMA." Jim Clymer Constitution Party National Committee Chairman says "Camp FEMAshows just how far into tyranny our government has taken us. This highly compelling work is a must-see for all who wish to retain liberty and who refuse to become slaves of the state."
Mary Starrett, National Political Communications Director of the Constitution Party, said she plans to get the DVD into the hands of as many people as possible and is tasked with introducing Camp FEMA to the CP's individual state parties. Special announcements and informal screenings of the movie will take place throughout the convention starting on October 23, 2009, thanks to Starrett who enthusiastically proclaims "Camp FEMA is a must have."
Writer/Director William Lewis said "The movie speaks candidly to the heart of every third party supporter in America and asks one simple question, Will you go Quietly?" Producer Gary Franchi points to a sold out audience for the Camp FEMA Toronto premiere that puts everything into perspective. He stated, "If the United States falls, then so does the rest of the world. That includes our neighbors to the north." Patrick Whyte who hosted the Conspiracy Culture's Canadian screening, stated a couple of days after the event that the movie has spread by word of mouth throughout their community driving phone traffic from eager Canadians who want to see the film.
CP Chair Jim Clymer says, "Watch it, share it with others and spread the word that it is time to end the charade that the parties in power have our best interests in mind."
If you're planning to attend the CP Convention, make sure you don't miss out on a chance to watch Camp FEMA. If you're in the Austin, Texas area, make sure to catch a screening at Brave New Books, November 4th, 7:30 PM. The producers will be there for a Q&A afterwards. The word on the street is that a special guest featured in Camp FEMA may show up for a special meet and greet.
Camp FEMA presents hard-core documentation, fact analysis, and investigation that takes internment camps off of the Internet and places them squarely in our own hometowns. With the introduction of HR645 (FEMA Emergency Camps), the intent of our leaders in Washington is clear. We must act now.
Camp FEMA can be watched online and discussed in the forums at:
http://www.campfema.com