Gaddafi blasts big powers in first UN speech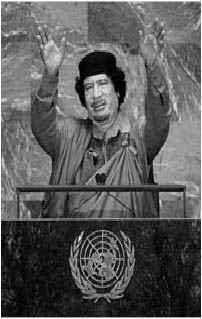 UNITED NATIONS—On Sept. 23 Muammar Gaddafi gave his first address to the United Nations as Libya's leader. In his speech Gaddafi accused major powers on the Security Council of betraying the principles of the UN charter.
"The preamble (of the charter) says all nations are equal whether they are small or big," Gaddafi said in his speech during which he chastised his audience for falling asleep. After reading from a copy of the UN charter, Gaddafi condemned the veto power held by the U.S., the U.K., France, Russia and China, the five permanent members of the council. At one point, he referred to them as the "terror council." Speaking through an interpreter, he said, "We cannot have the security council under countries which have nuclear powers. This is terrorism itself." He also noted that 65 wars have been launched since the inception of the UN's Security Council.
The Libyan leader, who arrived in New York September 22, also called for a permanent seat on the security council for the African Union - prompting applause from a handful of African states - and invited anyone who disagreed with him to an impromptu debate on the general assembly floor. Gaddafi's wide-ranging 1 hour and 35 min. speech called for a reopening of investigations into the assassinations of U.S. President John F. Kennedy and Rev. Martin Luther King, Jr.
In his speech he called the Swine Flu a military tool for world domination. He blamed UN leaders and the League of Nations for the Holocaust and reminded the assembly that they gave refuge to the Jews. He protested the Palestinian murders by the Israeli government and delved into 9/11 and other well-documented conspiracies.