From the July 2009 Idaho Observer:
---
24,000 Architects come face to face with 9/11 truth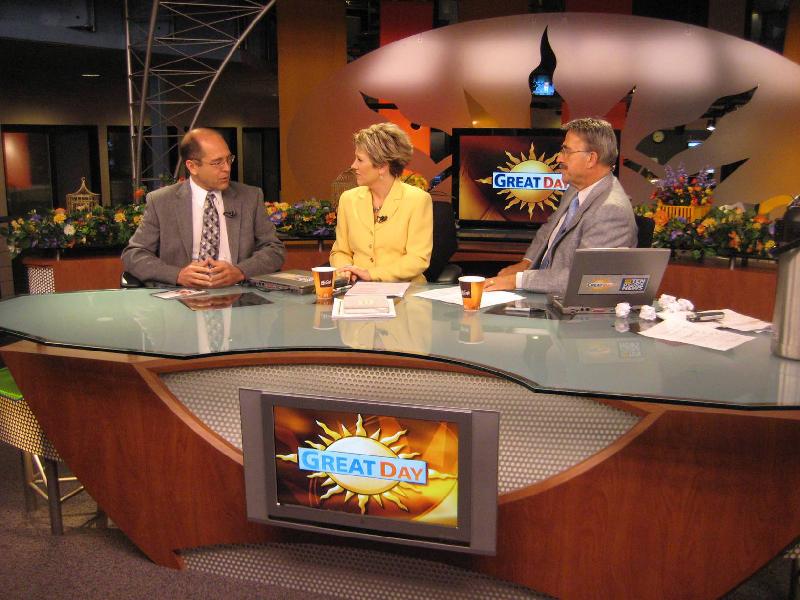 Richard Gage, AIA, on KMPH Fox 26 in Fresno, CA, on May 28, 2009. So many people sent emails thanking KMPH for allowing Gage seven minutes to discuss 9/11 truth that the station was overwhelmed with thank you notes.
AE911Truthers personally spoke to hundreds of architects who attended the American Institute of Architects (AIA) 2009 National Convention and Design Exposition in San Francisco April 30 to May 2, 2009. "We must have added about 50 new signers onto our petition over the course of three days," said AE911Truth founder Richard Gage.
The petition to which Gage referred now has 732 professional architects and engineers demanding that Congress launch a real investigation into the events of 9/11. An additional 3,976 individuals, including architectural and engineering students, have also expressed their support of the AE911Truth petition.
Amid hundreds of exhibitions by manufacturers of buildings, tiles, and window coverings, the 10'x10' AE911Truth booth had two large LCD screens showing the dramatic demolitions of the WTC Twin Towers and Building 7. The booth itself was adorned with seven professionally designed banners depicting the rest of the evidence and their mission and booth staff was professionally attired and well-groomed.
Gage said most responses from architects at the San Francisco conference as "positive" and described the attendees as "very open-minded and curious. It was exciting to speak with all these professionals that are really getting it. Most architects, not all, were willing to listen and engaged positively with us."
In once instance, a structural engineer/architect who stopped by the AE911Truth booth who has worked on 50 to 60 story buildings was completely unaware of the free-fall acceleration of building 7. After considering the evidence, immediately acknowledged that it implies a controlled demolition and signed the petition.
"We also had the AIA Chapter CEO in Virginia sign the petition – who had been a "fan" and quite aware of these issues and invited us to his major regional convention and offered us a free booth space," Gage said.
AE911Truth took the man up on his offer and set up a booth at the AIA conference in Washington, D.C., July 14-17.
Gage was able to discuss the AE911Truth campaign at several locations in Europe last year and is scheduled to speak at Harvard University on or about September 14 or 15. Stay tuned for details. Gage will also be taking AE911Truth "Down Under" to Sydney, Melbourne and Brisbane, Australia, in mid-November and is also scheduled for two speaking engagements in New Zealand at the end of November.
After going Down Under, it's off t o the Land of the Rising Sun where AE911Truth will be introduced by Japanese member of the House of Councilors by Yukihisa Fujita at its first appearance in Tokyo, with an expected turnout of 500. The next stop will be Kyoto, at another large venue, with six other cities to follow.
For updates and to sign the petition, go to www.ae911truth.org