From the March 2009 Idaho Observer:
---
Hillary drops human rights to talk fiscal turkey with China
Russia, China and others meet in pre-G20 conference
to discuss dumping dollar as world reserve currency
February 20-24, 2009, Hillary traveled to China as the U.S. secretary of state. After she left, an unnamed source claimed that Hillary had granted the Chinese military "eminent domain" to secure its U.S.-based assets should U.S. insolvency result in economic collapse. The state department flatly denies the rumor that Hillary arrived in China with an agreement to allow the Chinese to exercise eminent domain over its assets in America. China is, however, on record as desiring assurances that its estimated $1 trillion in U.S. assets were secure prior to Hillary's planned arrival in Beijing. As of mid-March, China is warning the U.S. to maintain control over its economy and that it is concerned about its U.S. assets (in the form of properties, businesses, utilities and treasury bonds). China claims it understands the measures the U.S. is taking to rescue its failing economy and anticipates the outcomes of those measures. Meanwhile, representatives from India and Brazil, led by Russia and China, met in Moscow the week of March 16—in advance of the April 2, 2009 meeting of the G20 in London. The publicized centerpiece of their discussions was creating a new global medium to replace the U.S. dollar as the world's primary reserve currency. The U.S. was not officially represented at this discussion. One thing is for sure, the G20 summit in London will be consumed by the desire of world leaders to address the global economic crisis and the U.S. is no longer viewed in the community of nations as the "leader of the free world."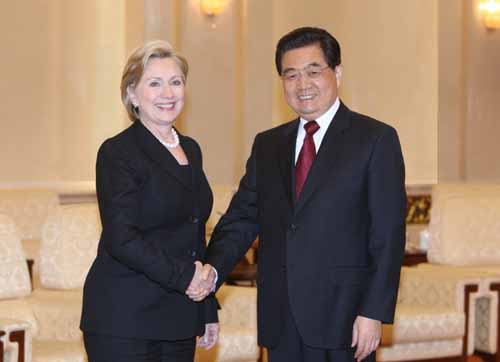 Compiled from reports
Before Hillary's visit. On Feb. 11, Bloomberg News reported that, "China should seek guarantees that its $682 billion holdings of U.S. government debt won't be eroded by 'reckless policies,' said Yu Yongding, a former adviser to the central bank."
The U.S. "should make the Chinese feel confident that the value of the assets at least will not be eroded in a significant way," said Yu of the World Economics and Politics Institute at the Chinese Academy of Social Sciences. According to Bloomberg, Yu "declined to elaborate on the assurances needed by China, the biggest foreign holder of U.S. government debt."
Chinese Premier Wen Jiabao said last January his government's strategy for investing would focus on safeguarding the value of China's $1.95 trillion foreign reserves.
According to Bloomberg, Agriculture Bank of China economist He Zhicheng said, "China may voice its concerns over U.S. government finances and the potential for a weaker dollar when Secretary of State Hillary Clinton visits China on Feb. 20."
"In talks with Clinton, China will ask for a guarantee that the U.S. will support the dollar's exchange rate and make sure China's dollar-denominated assets are safe," Bloomberg reported.
"That would be one of the prerequisites for more purchases," He said.
Eminent domain? On Feb. 20, 2009, a report attributed to Hal Turner, a questionable news source, reported that an unnamed U.S. embassy employee in Beijing had "confirmed" that Hillary granted China eminent domain over its U.S.-based assets. "There is no factual basis or substance to this report," Laura Tischler, a State Department press officer, stated in an email to WorldNetDaily reporter Jerome Corsi in response to an inquiry.
Post visit report. After Hillary's visit, Asia News reported Feb. 23, 2009, that both Chinese officials and Hillary were able to breath sighs of relief because both parties agreed that the "economy [is] more important than human rights" and that "human rights will no longer be the main issue."
In exchange, the Asia News reported, "Beijing has decided to continue buying U.S. Treasury bonds, in order to support the American economy."
"Chinese foreign minister Yang Jiechi said that China wants its foreign currency reserves—at 1.95 trillion dollars, the largest in the world—to be invested safely, at good value and liquidity. But he added that China wants to continue to work with the United States. Similar assurances have been given by President Hu Jintao."
With cliche wit matched only by Alaska Governor Sarah Palin, Hillary was quoted as stating that the U.S. and China are, "in the same boat," and are "rowing in the same direction."
We are not sure what she meant as the Chinese government is holding nearly $1 trillion in U.S. treasury bonds and the U.S. has no such investment in Chinese public debt. The financial hardship China would experience if the U.S. goes bankrupt and the value of its bonds hit zero would be significantly greater than the economic blow the U.S. would experience if China went belly up.
"According to financial analyst Wang Xiangwei, however, Beijing has no alternative but to support the U.S. economy and invest in U.S. treasury bonds," Asia News observed, as the Obama administration seeks new funds to underwrite its $trillion "economic stimulus package."
In keeping with Hillary's personality, Asia News closed its Feb. 23 article by mentioning that, "Wang says that there seems to be some minor blackmail on the part of the United States: If China does not buy Treasury bonds, information will be published in the United States about the money that the leadership and their relatives have deposited in banks there."
China still concerned. On March 14, 2009, the UK Guardian reported that China Premier Wen Jiabao "issued a veiled warning to America yesterday to maintain control over its economy in the latest sign the global economic crisis is testing the most important bilateral relationship in the world."
Wen told a news conference he was "worried" about Beijing's holdings of American government debt. China holds an estimated $1 trillion in U.S. treasury bills
"Speaking at an annual press conference at the end of China's rubber-stamp parliament, Wen said: 'President Obama and his new government have adopted a series of measures to deal with the financial crisis. We have expectations as to the effects of these measures...We have lent a huge amount of money to the U.S. Of course we are concerned about the safety of our assets. To be honest, I am definitely a little worried. I'd like to take this opportunity here to implore the United States ... to honour its words, stay a credible nation and ensure the safety of Chinese assets."
Reading between Wen's words, we get the impression that he believes the Obama administration either intends to crash the U.S. economy or is stupidly implementing policies that will likely result in disaster.
Wen's comments were made after the U.S. accused the Chinese navy of harassing one of its surveillance vessels in international waters in the South China Sea. "Beijing said the U.S. vessel was operating illegally, but the Pentagon has dispatched a destroyer to the region to protect the American ship," The Guardian reported.
Though the U.S. and China have attempted to maintain amiable relations, "Underlying frictions persist over Taiwan, China's military build-up and China's interests in Africa, particularly Sudan. Then there is the economic dimension," The Guardian observed.
Pre summit discussion. During the week of March 16, Reuters reported that representatives from Russia, China, India and Brazil met in advance of the April 2 G20 summit to discuss, among other things, plans to replace the dollar as the world's reserve currency with a new, global medium.
Red alert. To further complicate matters, British authorities are on "red alert" for a "terrorist attack" while the G20 is convening in London. It is being officially rumored that al Qaeda is training college-aged people in terror tactics. It would seem that the backstory is being laid for provocateurs to disrupt what would otherwise be peaceful protests to justify a show of police state authority during the summit. In his March newsletter, David Icke made the comment, "By their shoes, ye shall know them." The comment was in reference to a photo where police are violently subduing a protester and all six cops photographed and the lone protester had something interesting in common: They were all wearing the same make and model of boots.