From the July 2008 Idaho Observer:
---
The (temporary) world of Cindy Neun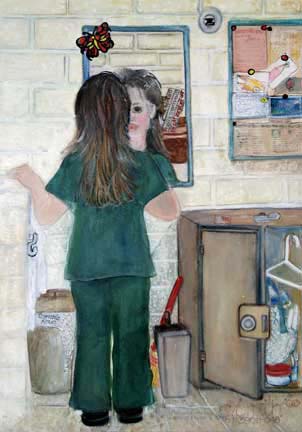 Cindy Neun and Irwin Schiff were sentenced to six and 12 years in prison respectively on income tax-related charges after Nevada District Federal Judge Kent Dawson chose not to allow the law into his court (The IO, Nov., 2005).
Cindy recently filed her Motion in Opposition for Summary Judgment of Permanent Injunction against Irwin Schiff and Cindy Neun in Nevada District Federal Court. Cindy's motion is unique in that, with the exception of some 40 pages of "exhibits," it is handwritten.
It is not a stretch to say that Cindy filed a substantive and creative work of art in federal court. We pray that officers of the court are compelled to respond to the motion as real people (rather than vindictive government automatons) and respond accordingly.
Cindy has also forwarded more additions to the collection of her artwork which will be posted to The IO website by the first week in August. Please keep Cindy in your prayers. ~The IO staff
Note: Cindy and the "ladies" at the "camp" love to receive postcards from everywhere. If you feel like brightening their days, send a postcard with a note to Cynthia Neun, c/o #39011-048, Federal Prison Camp, 37930 No. 45th Ave., Phoenix, AZ 85086-7057. In a recent letter, Cindy said that she is keeping a scrapbook of postcards and that, "the correspondence helps inmates in a number of ways."