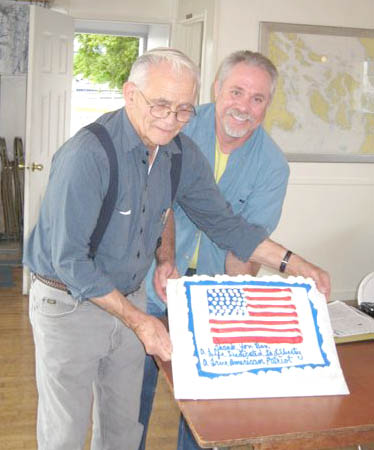 Ben Hinkle pictured with John Busch at the Whatcom County Ron Paul Meetup one-year anniversary party June 19, 2008. The hand-decorated cake says, "Thank you Ben; a life dedicated to liberty; a true American patriot."
Thirty-seven delegates from Whatcom county attended the 2008 Washington State Republican Convention May 29-31 in Spokane. Many of them were Ron Paul supporters who were inspired by Citizens for Liberty Chairman Ben Hinkle, 83, to get involved in local party politics. Hinkle has been a longtime IO subscriber and letter-to-the editor contributor. When we discovered that the Whatcom county RP delegation and The IO have love, respect and admiration for Ben Hinkle in common, we hatched a plan at Cyrus O'Leary's restaurant to express our unilateral appreciation for this great American. Following are a few comments from those who credit Ben Hinkle for their countywide "infiltration" of party politics as RP delegates.
"When we started working with Ben Hinkle a year ago after he started our Ron Paul meetup we never dreamed he had been fighting this battle for over 50 years! What an amazing patriot who gives his time and energy readily whenever we need him! When we asked him to become a PCO for the cause, he did. The Republicans couldn't believe it since they've been wanting him for years! If one looked up the definition of "patriot" in Webster's Dictionary it should definitely include the name "Ben Hinkle." ~John and Karin Busch
"I would like to highly commend Ben for his dedication working so diligently in keeping this great country of ours free. Ben told me that when he went into the service in WWII that he swore an oath to uphold our great constitution and has never deviated from his oath since. Doesn't that remind you of our great statesman Ron Paul? Thanks so much, Ben. You not only worked hard for your family but our families as well!" ~Liz Fluit
"I met Ben Hinkle July 9, 2007, at Boulevard Park in Bellingham, WA. He founded the Bellingham Ron Paul Meetup and around 15 people met on that sunny day. I have attended more than 130 Ron Paul Meetups to date and Ben is probably not that far behind. We had a booth at the NW WA Fair August 2007. It was Ben who selflessly donated the booth fee, which was over $600. Ben has probably spent a small fortune on the campaign for liberty. He is a true patriot, truth seeker and friend." ~Justin Mckay
"Ben Hinkle is a true patriot. He is not one of the sheep in America. As Judge Napolitano would say, Ben is one of the wolves out there, howling in the lonely wilderness against the lawlessness and usurpation of unconstitutional power by our own government. Ben has dedicated a large portion of his life to standing up for the principles of liberty and continually trying to warn others of the tyranny that threatens us increasingly everyday. Ben is the kind of hero that the mainstream media ignores, while they make 'heroes' of those who are actually participating in the destruction of the Republic and the removal of individual liberties. We need more patriots like Ben who will stand where it is often lonely and frustrating to be the trumpet blast for liberty and against tyranny." ~Joe Murphy
"It is an honor and blessing to have Ben Hinkle as a friend. From the moment I met him I could tell that he is a man not willing to set his principles aside for any reason. We met at the freeway where I learned that he founded Citizens for Liberty and has spent the better part of his life trying to spread the message of freedom. He is a true survivalist and is an inspiration and mentor to me. I am forever indebted to Ben for starting the Bellingham Ron Paul Meet-up last year. Without knowing what he was doing he became responsible for bringing together the most incredible and diverse group of people in Whatcom County. We stand together as a family, an army and Ben is our patriarch." ~Christy Nieto
Thank you, Ben's Brigade—now get back to work—we have a Republic to restore!