From the December 2007 Idaho Observer:
---
This photo of the Ron Paul blimp was taken Dec. 19, 2007, near Norfolk, VA, by Trevor Halstead and then posted to the website at ronpaulblimp.com.

The blimp is a perfect example of what is happening that is so hard for the establishment to understand. We have no leader, we have no organization and we have no strategy. All we have is a vision and a goal: We want our country back.

Because of that, we have rallied around Ron Paul and we do stuff like stand in the cold with signs, meet to plan rallies, set up radio networks, write letters to editors and other amazing projects like blimps.

Ron Paul Meetups

As of July 20, 2007, 557 meetup groups had formed with 20,820 total members. By the next day, 569 meetup groups had 24,898 members.

As of Sept. 9, 2007, there were 867 groups with 42,566 members; 5,177 Ron Paul events had been held in 706 cities and 17 countries.

Just two days later, Sept. 11, 2007, the numbers had jumped again: 885 groups with 43,765 members; 5,337 Ron Paul events had been held in 718 cities and 19 countries.

By press time for the October, 2007 edition, there were 1,019 groups with 56,000 members; 9,337 events have been held in 811 cities and 22 countries.

Nov. 20, 2007: 1,215 groups have 72,806 members in 949 cities and 24 countries; 14,826 meetup events have been reported.

Dec. 19, 2007: 1,393 groups have 82,440 members in 1063 cities and 29 countries; 20,922 events have been reported.
IO coverage of the Ron Paul revolution: Statement of intent
It would be silly for us to even attempt to "cover" the Ron Paul revolution. Our purpose here is to inspire you, make sure you understand this is a revolution, that the tea party is over and its time to get ready for a "shot that will be heard 'round the world." Unlike our first revolution in which the people organized themselves in pubs, churches, cafes, town squares and circulated newspapers and handbills to communicate with one another, this revolution is organizing and communicating on the Internet via emails, websites and the posting of every significant event via YouTube. In all honesty, it is as if we have just been practicing cyberspace this last decade to prepare ourselves for the time when we will use this medium to break through our countrymen's conditioning and get them to realize what is happening to us.
This is truly phenomenal. Our greatest opportunity to restore the Republic is at hand and it is an honor to be on the right side of this revolution. If you need help getting involved, call us and we will put you in touch with a Ron Paul revolutionary in your area.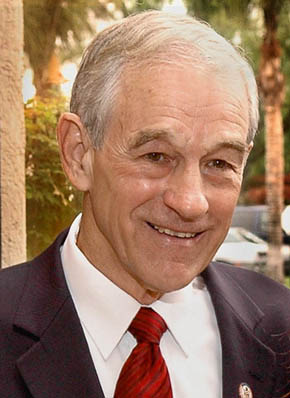 World Elects Dr. Ron Paul for President!
Steve Watson of Prison Planet reported Nov. 28, 2007, that "A website which has collected over 72,000 votes from people in countries all over the world has revealed that the vast majority would elect Dr Ron Paul if they had the opportunity to influence the 2008 U.S. election."
As of Nov. 28, 2007, the site at www.whowouldtheworldelect.com/ had collected 72,556 votes from people in countries across the world, from Afghanistan to Zimbabwe and everywhere in between [as of 12/20/07, the site reflects that 93,185 votes have been cast].
The results reveal that the overwhelming favorite candidate in almost every corner of the globe is Congressman Ron Paul. Following is a list of countries Ron Paul wins the most votes in according to the site:
Afghanistan, Albania, Algeria, Andora; Barbuda, Australia, Austria, Azerbaijan, Bahamas, Bermuda; Brazil, Cambodia, Canada, Cayman Islands, Columbia, Costa Rica, Croatia, Cuba, Cyprus, Czech Republic, Dominican Republic, Ecuador, Egypt, El Salvador, Estonia, Fiji, Finland, French Polynesia, Germany, Gibraltar, Guam, Guatemala, Guyana, Hungary, Iran, Iraq, Israel, Japan, Jordan, Kazakhstan, Kenya, Korea, Latvia, Lebanon, Liechtenstein, Luxemburg, Malaysia, Maldives, Malta, Mexico, Micronesia, Moldova, Monaco, Namibia, Netherlands, Nicaragua, Norway, Occupied Palestinian Territory, Pakistan, Panama, Papua New Guinea, Paraguay, The Philippines, Poland, Portugal, Samoa, San Marino, Senegal, Serbia, Seychelles, Saudi Arabia, Sierra Leone, Slovenia, Sri Lanka, Sudan, Sweden, Switzerland, Syria, Taiwan, Thailand, Togo, Tunisia, Ukraine, UK, Uruguay, Uzbekistan, Vanuatu, Venezuela, Vietnam, The Virgin Islands, Wallis and Futuna Islands, Yemen, Zambia, Zimbabwe.
Out of the 72,556 votes in total, Ron Paul gets over 50 percent with a total of 36,902. The nearest rival is Barack Obama with close to 15,000. Dennis Kucinich gets almost 7,500 and Hillary Clinton just 3,812 [as of 12/20/07, Ron Paul still has over 50 percent with ia total 52,243 of 93,185 votes. Obama has 16,431 votes; Hillary has 4,457 votes].
In response to concerns about Ron Paul's safety
On Dec. 18, Benjamin Fulford was on the Jeff Rense program on Genesis Communications Network. Fulford is the veteran journalist living in Japan who was the conduit for a warning to the Illuminati that and Chinese secret society is losing patience with their genocidal intentions and terroristic efforts to maintain political and economic control of the world (The IO, July, 2007).
During the program, Fulford responded to numerous concerns and specific allegations that there are plans to assassinate Ron Paul. Most notably, best-selling author and Bilderberg sleuth Daniel Estulin reported on Alex Jonesí radio show Dec. 12, 2007, that he has received information from sources inside the U.S. intelligence community which suggest that people from the highest levels of the U.S. government are considering an assassination attempt against Congressman Ron Paul because they are threatened by his burgeoning popularity.
In response, Fulford indicated that the Chinese secret society has already enveloped Dr. Paul in a blanket of security and that if anything happens to Ron Paul, assassins will descend upon the perpetrators.
According to Fulford, it is obvious that the 300-year reign of European families is coming to an end and that the entire global monetary system and the European banking elites who control it are losing their grip. Fulford also indicated that the world is waiting for the U.S. economy to bottom out and for Americans to rid ourselves of this Zionist-led cabal before coming to our aid.
Is it all true or not? We do know that the economy is collapsing, that European Zionists run the global banking system and are accomplishing their objectives with economic and political terrorism that is being enforced militarily. We also know that the candidacy and increasing popularity of Ron Paul is a threat to the status quo and enemies of lesser threat have been assassinated as a matter of routine for centuries. The only aspect that remains in question is whether or not there is a Chinese secret society watching Ron Paulís backóor if Ron Paulís protection is from a higher order.
Regardless, it is important that all of us go forward in faith; fear that Ron Paul's life is in jeopardy only serves to affirm that his life is in danger. We must accept that not one person has ever lived a moment past his time and pray that his purpose is to continue teaching America to deserve freedom and justice.