From the November 2007 Idaho Observer:
---
The Amero: Starting to look pretty real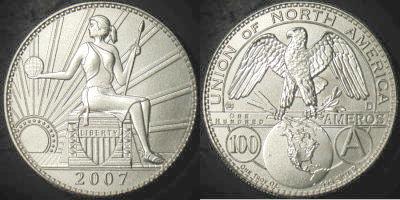 It is becoming apparent that concerns of many Americans are coming true: That closed-door meetings between U.S., Canadian and Mexican heads of state are resulting in the merger of the three nations into a North American Union (NAU). Proof that the merger is going forward would be the release of a common currency similar to the "euro" which is exchanged among 15 European Union "states." Talk of the "amero" has been floating around for about a year, but, until recently, there had been no hard evidence.
Above is a photo of a real amero. Someone in the U.S. Treasury sent professional images to talk show host Hal Turner with a note saying they liked his radio show and are frightened by what's been going on in secret within our government.
This Treasury Department person indicated he was outraged that our country was beginning to coin money as part of a merger that would do away with our sovereignty.
Shortly thereafter, Turner received an actual amero (pictured above) in the mail.
The economic conditions most likely to bring the amero into circulation, which at this time appears to be inevitable, would be the crash of the dollar, aided by foreign investors dumping their dollars and Treasury bonds and the resultant economic collapse, which could happen at any moment. We can also expect that the NAU will come in under chaotic conditions since the entire scheme has been developed in secrecy.