From the June 2007 Idaho Observer:
---
Remember, remember the 11th of September
COEUR D'ALENE—The Idaho chapter of the 9/11 Visibility Project is participating in a nationwide effort to awaken their neighbors to 9/11 truth. The group has decided to meet in a public place at 5 p.m. on the 11th of each month to engage people on the subject of 9/11 and provide them with free literature and DVDs. Though the weather was cool and windy June 11 and not too many people came by, those who did were interested and compelled to share their opinions about 9/11, listen to what we had to say and appreciated the free information. The group will meet again at Independence Point at 5 p.m. on the 11th of July, August and September. Everyone is welcome to join us. Independence Point is the east side of the Coeur d'Alene City Beach so swimsuits are optional.
Proponents of 9/11 truth everywhere are encouraged to get a few friends together, make some signs and secure an arsenal of 9/11 truth DVDs (see page 24) and literature and meet at public places to increase public awareness of the false flag event being used to justify the war on terror and American civil liberties—9/11.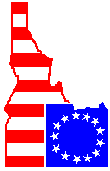 Home - Current Edition
Advertising Rate Sheet
About the Idaho Observer
Some recent articles
Some older articles
Why we're here
Subscribe
Our Writers
Corrections and Clarifications
Hari Heath
Vaccination Liberation - vaclib.org
---
The Idaho Observer
P.O. Box 457
Spirit Lake, Idaho 83869
Phone: 208-255-2307
Email: vaclib@startmail.com
Web:
http://idaho-observer.com
http://proliberty.com/observer/