From the April 2007 Idaho Observer:
---
The real purpose of the Real ID
The following press release from BlueBear Network, International, an Ottawa, Canada-based company incorporated in Nevada, was issued soon after the Real ID Act became law in 2005. The release is extremely revealing in that it states the true intent of Real ID:
OTTAWA, Ontario, June 1, 2005 (PRIMEZONE) — BlueBear Network International, Inc., announced today it has extended its exclusive licensing of facial recognition and secure distributed search technology from Ottawa-based VisionSphere Technologies, to offer State motor vehicle agencies the ability to link driver's license databases between all U.S. states, Canada and Mexico—as proposed by the sweeping REAL ID Act approved by Congress this month. [emphasis added]
"The passing of the Real ID Act by Congress earlier this month will enable BlueBear to position itself to be a key technology player in linking driver's license databases throughout North America," said Andrew Brewin, President and CEO of BlueBear Network. "Given that BlueBear is already deploying information sharing systems in Law Enforcement, adding Driver's Licenses is a logical extension." [emphasis added]
BlueBear, as the exclusive licensee, adapts that technology for law enforcement by building applications for forensic identification, background checks and the fight against child exploitation.
BlueBear Network International, Inc., is a Nevada registered company based in Ottawa, Ontario, Canada.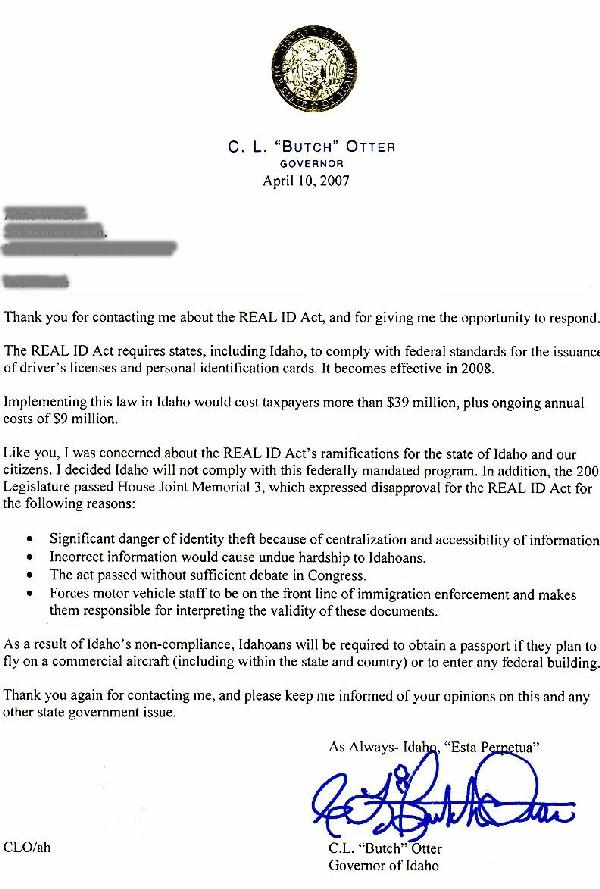 The letter above was sent to an Idahoan from the office of Idaho Governor Butch Otter in response to her query about the federal "Real ID Act." Idaho, like all 50 states, is mandated to bring their state IDs up to a new set of federal standards by May, 2008. Idaho is on record now with at least 24 other states as refusing to comply with this unfunded mandate. The 2007 Idaho legislature voted unanimously to pass House Joint Memorial 3 "...to support measures to repeal the federal Real ID Act of 2005.
Governor Otter, who voted "aye" with 260 other U.S. Reps. to pass the Real ID Act (also called the Immigrant Security Standards Bill) as a member of Congress in 2005, bulleted four lucid Real ID opposition points in his letter. The second to last sentence is particularly interesting. "As a result of Idaho's non-compliance, Idahoans will be required to obtain a passport if they plan to fly on a commercial aircraft (including within the state and country) or to enter any federal building."
What Governor Otter did not mention is that the Act requires that federally-approved ID will be required for all federal purposes. So, absent a federally-acceptable ID, a passport would also likely be required for Idahoans who are enrolled in federal entitlement programs or federally-subsidized state entitlement programs, receive federal pensions or attend federally-funded schools. Many Idahoans are not eligible for passports and—how does one obtain a passport when facing federal charges?
Though it seems like a good thing that the state legislatures are standing up to the odious Real ID Act, according to the Idaho governor, the stand, which is rather weak, will create a lot of unintended(?) consequences for Idahoans (and the residents of the other "pro-repeal" states). In essence, all men will not be equal.
Logical extension
Activist Vickie Davis, who has pulled a lot of Real ID-related data together to give us a clearer picture of what this agenda is really all about, observed, "An educated guess would be that the ultimate goal is to have the Real ID number assigned at birth. It will be a lifetime number to identify a person. Support for that conclusion is that a cradle-to-grave integrated school-workforce development system is being installed in the schools. And students are being conditioned to accept RFID cards."
Even though IDs issued in Canada or Mexico may look different from IDs issued in the U.S. (and those may vary in appearance from state-to-state), they will be manufactured per federal (North American Union?) standards by BlueBear or its contractors. For the first phase of Real ID to succeed in the U.S. will require some 245 million Americans to surrender their current drivers licenses and be reissued the federally-compliant model.
"First the 'Smart ID' with the RFID chips, then the Verichip—one step at a time towards totalitarian control. The ultimate goal, of course, would be to have RFID chips with the REAL ID number on the chip embedded in the skin at birth," Davis commented.
Davis' comments would seem crazy if every fictional techno-tyrannical police state fantasay ever dreamed weren't coming true during our lifetimes.
The Real ID rebellion
It appears that we are being set up. The states are refusing to comply with the federal "Real ID Act," mostly because the implementing agencies are comprised of bureaucrats who are not willing to work overtime without pay. As we have seen, most state government actors have no problem complying with funded federal mandates. Congress, a body authorized to "imagine" money into existence, could just as easily as not finance Real ID Act compliance efforts at the state level. It could also repeal the Act because Americans do not want Real ID.
But it won't repeal Real ID because it is an important component of its plans to form a more perfect North American Union. So it is imagining money into existence, instead. A bill to "repeal" Real ID has been introduced (SB 717 and HR 1117) to placate the growing Real ID rebellion. Not surprisingly, the bill only pretends to repeal the unpopular act; it actually contains language to mandate federal ID standards and increases federal funding for the project. The bill will likely pass because funded bureaucrats are happy bureaucrats and for a few bucks, notions of representing the will of the people to not be tracked and monitored at all times will just go away.