From the January 2007 Idaho Observer:
---
Fincher found guilty: Trial by jury in name only
by Loretta Weston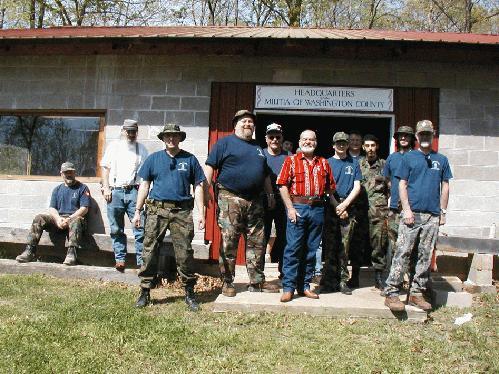 Meet the Washington County Militia: A bunch of law-abiding guys who get together to discuss law, history, contemporary events and how to best help serve and protect their community in times of need. "The Gentle Giant" Wayne Fincher is at center.
The Lt. Commander of the Washington County Militia, Hollis Wayne Fincher, was pronounced guilty of owning illegal weapons January 12, 2007, by a jury of nine women and five men at the U.S. District Court in Fayetteville, Arkansas, presided over by Judge Jimm Larry Hendren.
Sixty-year-old Fincher was arrested Nov. 20, 2006, at his home on Black Oak Road near Fayetteville. The early morning raid involved federal agents from the BATF and the FBI and assisted by Washington County Sheriff's Office, Fayetteville Police Department, Springdale Police Department, Arkansas State Police, Arkansas State Bomb Squad and the Madison County Sheriff's Department.
While awaiting trial, Fincher was held in the Sebastian County jail during which time he became so ill that hospitalization was required. The American Family Voice (AFV) has learned that the poor jail food diet, resulting in Fincher losing 40 pounds in 2 months may have contributed to his health condition. The Fincher family say they were not notified of his hospitalization and his attorney, Oscar Stilley, said that his request for diagnosis and the attending physician's name were not forthcoming. After Fincher was later returned to the jail, his condition worsened again. According to our sources, Fincher did not receive his prescribed medication for 13 hours and Stilley was not allowed a copy of Fincher's medical records from the jail.
Readers will recall that six illegal Mexicans were released at the indictment (not considered flight risks by the court) while Fincher, whose family were 1800s pioneers settling on the land where his family still resides, was placed under a $250,000 bond, an unheard of amount for similar cases of allegedly illegal gun possession.
Because of Fincher's failing health, the trial originally set for Monday, January 8 was postponed one day to assure he was physically able to withstand the stress of courtroom proceedings. Once jury selection was completed on Wednesday morning, federal prosecutor Wendy Johnson called ATF Senior Special Agent Wade Vittitow to the stand where the individual seized guns were submitted as evidence. As each gun was examined by Vittitow, it was placed stock down on the floor and leaned against the railing of the jury box, basically at the feet of several female jurors. Was this an intimidation tactic?
Upon cross examination, it became clear to observers that the federal prosecutors were determined that no mention of "constitution", "2nd Amendment", "militia" or "liberty" were to reach the jury's ears. AFV had learned that the prosecution had submitted a motion to the court prior to the trial to ban any constitutional arguments. After several sustained objections during defending attorney Stilley's cross examination of Vittitow, an approach the bench request was made by Stilley. Whether requested by the judge, the prosecutors or the defense, approaching the bench became so frequent that observation showed the jurors were becoming annoyed.
Thursday morning, the prosecutor's arms expert witness, Earl Griffith, after explaining to jurors how the individual guns had been modified to be fully automatic, was then cross examined by Stilley. A buzz of astonishment swept through the courtroom when Griffith said he was "not familiar with the 2nd Amendment" and further stated that he had "no knowledge of Arkansas state laws on weapons." Griffith's final misnomer was saying that NATO is the "North American Treaty Organization" - for the sake of the jury, Stilley corrected him that it is the North Atlantic Treaty Organization. Such questioning by the defense should have caused doubt with the jury as to Griffith's actual credibility.
With the jury excused, the defendant, Wayne Fincher, called by friends "the Gentle Giant," was sworn in for his testimony during the afternoon on Thursday. After an hour and a half of his studied accounts of both the U.S. and Arkansas constitutions and related militia duties, the prosecution produced a letter dated January 4, 2007, signed by former Governor Huckabee, stating in effect that no "organized militias" existed in the state of Arkansas. Indeed, as Fincher related, Arkansas' Constitution states that every citizen ages 18 to 45 are on call as militiamen. Therefore, Huckabee's letter evidences his own ignorance of Arkansas' Constitution.
The judge then spent about 30 minutes referencing past court cases and quoting previous "precedents" set by other judges in similar cases. Judge Hendren ultimately ruled all of Fincher's testimony as inadmissible (jury could not hear) completely disregarding both U.S. and Arkansas constitutions.
In essence, Judge Hendren denied Fincher his constitutional right to defend himself in a court of law. Having been denied their entire defense, both the prosecution and defense rested late Thursday afternoon. Closing statements were presented before the jury Friday morning followed by deliberation.
Observers stated that about 2 p.m., the jury asked for further instruction regarding what to do about having agreed on only one count. The judge told them that if they could not agree on both counts, a hung jury would result.
The jury deliberated approximately another hour, at which time they presented their verdict of guilty on both counts. Mrs. Fincher told AFV that her husband's attorney noticed that most jurors were keeping their eyes focused down during the reading of the verdict. Were they too ashamed to look the defendant in the face?
Considering the time this reporter spent in the courtroom observing, the jury may only have heard about 30 percent of the evidence that could have freed the defendant. It is my personal opinion that this case was a jury trial in name only.
As a larger legal team prepares an appeal, another body of determined minds will be working towards acquiring a more reasonable bond than that set by Magistrate Beverly Stites-Jones in November. Sentence will be pronounced in 30 to 45 days.
Meanwhile, cards and letters of encouragement can be mailed to: Hollis Wayne Fincher, Sebastian County Jail, 801 South A Street, Fort Smith, Arkansas, 72901 and donations payable to: The Wayne Fincher Defense Fund; and mailed to: Don Bright, 2225 Mockingbird Lane, Fayetteville, AR 72703. Receipts are available upon request.
Loretta Weston is the editor of The American Family Voice news, P. O. Box 127, Russellville, AR 72811; Phone: 479-880-2026; americanfamilyvoice@yahoo.com -Subscriptions: $25/yr.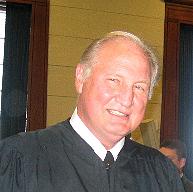 U.S. District Judge Jimm Hendren removed the jury from the courtroom for about 70 percent of the time Fincher was defending himself with things like the law and the state and federal constitutions.