From the August 2006 Idaho Observer:
---
Sr. Bush executively ordered nationwide "infrastructure asset" garage sale in 1992
Last month The IO reported that cash-strapped jurisdictions are selling vital components of our national infrastructure (roads, bridges, utilities) to private, often foreign, interests. This month we find that the trend was initiated by Pres. George HW Bush in 1992. Do a Google search or contact The IO for the full text of Executive Order 12803. Following is verbatim from EO 12803, Section 1. Definitions. "For the purpose of this order: (a) 'Privatization' means the disposition of or transfer of an infrastructure asset, such as by sale or by long-term lease, from State or local government to a private party.'
"(b)' Infrastructure asset' means any asset financed in whole or in part by the Federal Government and needed for the functioning of the economy. Examples of such assets include, but are not limited to: roads, tunnels, bridges, electricity supply facilities, mass transit, rail transportation, airports, ports, waterways, water supply facilities, recycling and wastewater treatment facilities, solid waste disposal facilities, housing, schools, prisons and hospitals."
The stated purpose of the EO was "...to allow the private sector to provide for infrastructure modernization and expansion." The EO does not set forth any qualifications for potential buyers. As a result, foreign interests are currently buying up vital components of national infrastructure. It would seem that the first order of national security would be to maintain domestic control over ports, waterways, roads, bridges and utilities. But instead, Americans are prohibited from boarding an airplane with bottles of water.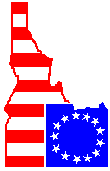 Home - Current Edition
Advertising Rate Sheet
About the Idaho Observer
Some recent articles
Some older articles
Why we're here
Subscribe
Our Writers
Corrections and Clarifications
Hari Heath
Vaccination Liberation - vaclib.org