From the May 2006 Idaho Observer:
---
PUBLIC NOTICE
The north Idaho chapter of the nationwide 9/11 Visibility Project will host author/historian Webster G. Tarpley Saturday, June 17, 2006, at the Panida Theater in Sandpoint. Doors will open at 5 p.m. Tarpley, who co-authored "The Unauthorized Biography of George Bush" (1993), will deliver a riveting presentation based upon his new book, "9/11 Synthetic Terror: Made in USA" (2005). Advance tickets available online for $11 each through TicketsWest at www.ticketswest.com or by calling 1-800-325-SEAT. Tickets will also be available for $15 at the door if the event is not sold out in advance.
Highly public and well-attended 9/11 truth events are happening all over the country. Most Americans do not believe the governmentís explanation for 9/11. We encourage you to help us turn the public awareness tide with regard to 9/11. Call Harold Hilton at (208) 263-3322 to arrange for a 9/11-related film showing and public discussion in your area. Many of us know that 9/11, as an inside job, is the justification for the Bush administrationís war on terror and its war on American civil liberties. Help as many people as you can become aware of 9/11 truth issues in April and May so that we can pack the Panida with well-informed people from the Inland Empire willing to demand that the 9/11 investigation be reopened. An informed citizenry can initiate a full investigation into the events of 9/11 so all the facts can be brought before the public and the real killers be brought to justice.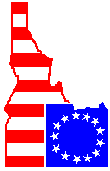 Home - Current Edition
Advertising Rate Sheet
About the Idaho Observer
Some recent articles
Some older articles
Why we're here
Subscribe
Our Writers
Corrections and Clarifications
Hari Heath
Vaccination Liberation - vaclib.org
---
The Idaho Observer
P.O. Box 457
Spirit Lake, Idaho 83869
Phone: 208-255-2307
Email: vaclib@startmail.com
Web:
http://idaho-observer.com
http://proliberty.com/observer/