From the April 2006 Idaho Observer:
---
VP Cheney comes to Spokane
Visit reveals divided America: The few open their wallets to power; a few more come out in protest of that power; some are paid to protect the powerful and; most just go about their business, powerless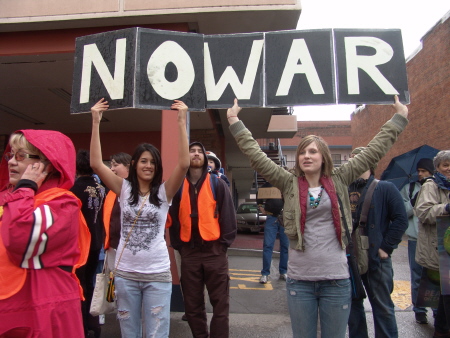 Above: Madis Reillo (15) and Libby Kennedy (14) came down after school to join the protest. Both girls (with the help of an older sister) have known since 2000 that Bush "stole" the presidency.
SPOKANE, Wash.—Vice-President Dick Cheney gave a 30-minute talk at the Davenport Hotel here April 17 after giving a pep talk to service men and women stationed at Fairchild AFB. The event was a fundraiser for U.S. Senate candidate Mike McKavick. Cheney reportedly gave a positive report on the war on terror and defended spying on Americans as a necessary tool in that war. "If Americans are communicating with al Qaeda, then we want to know about it," he said.
Inside, you could have lunch with the vice-president for $200; for $2,000 more you could shake his hand. Outside, nearly a thousand people politely protested the full range of atrocities alleged against Cheney and the Bush administration; an ad hoc marching band played now and then. About 100 police were called out to keep the peace during the private fundraiser. Of the thousands of cars and pedestrians that passed through the protest at Lincoln and Sprague between 2 and 5 p.m., some honked or waved, some were profane, but most drove by pretending not to notice. We saw a cop spit on the street; the motorcade lined up one direction as a diversion and Dick escaped through the backdoor without having to face an awaiting gauntlet of opposition.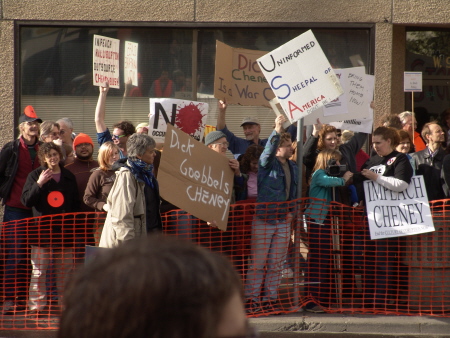 Above: Aych Hilton (center) holds a sign urging the "uninformed sheepal of America" to get informed. There were hundreds of signs—from crayons on cardboard to vinyl on plastic posterboard—expressing the full spectrum of Bush administration atrocities at home and abroad. Other protestors (not pictured) wore Abu Ghraib garb and black hoods, hunting vests, prison stripes and Bush and Cheney masks. All lined up on the streets, the list of crimes alleged against this administration requires several city blocks.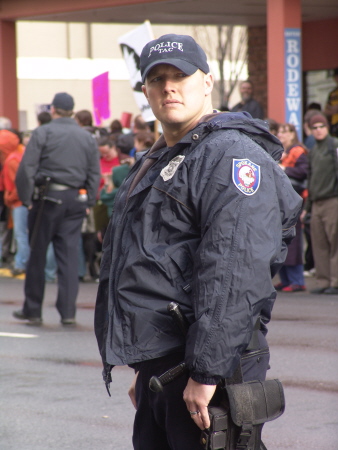 The estimated 100 police were polite—but the veneer of benevolence was exactly as thick as the people's willingness to obey the rules of polite protest.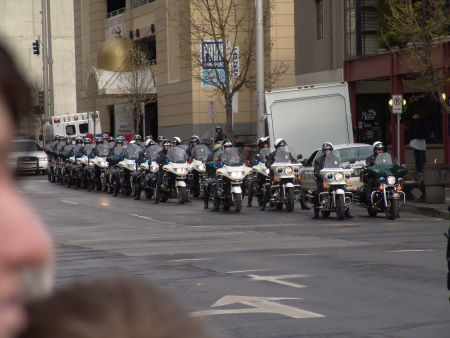 The motorcade that turned out to be a diversion.
(Photos by Jay Mock)