From the March 2006 Idaho Observer:
---
America From Freedom to Fascism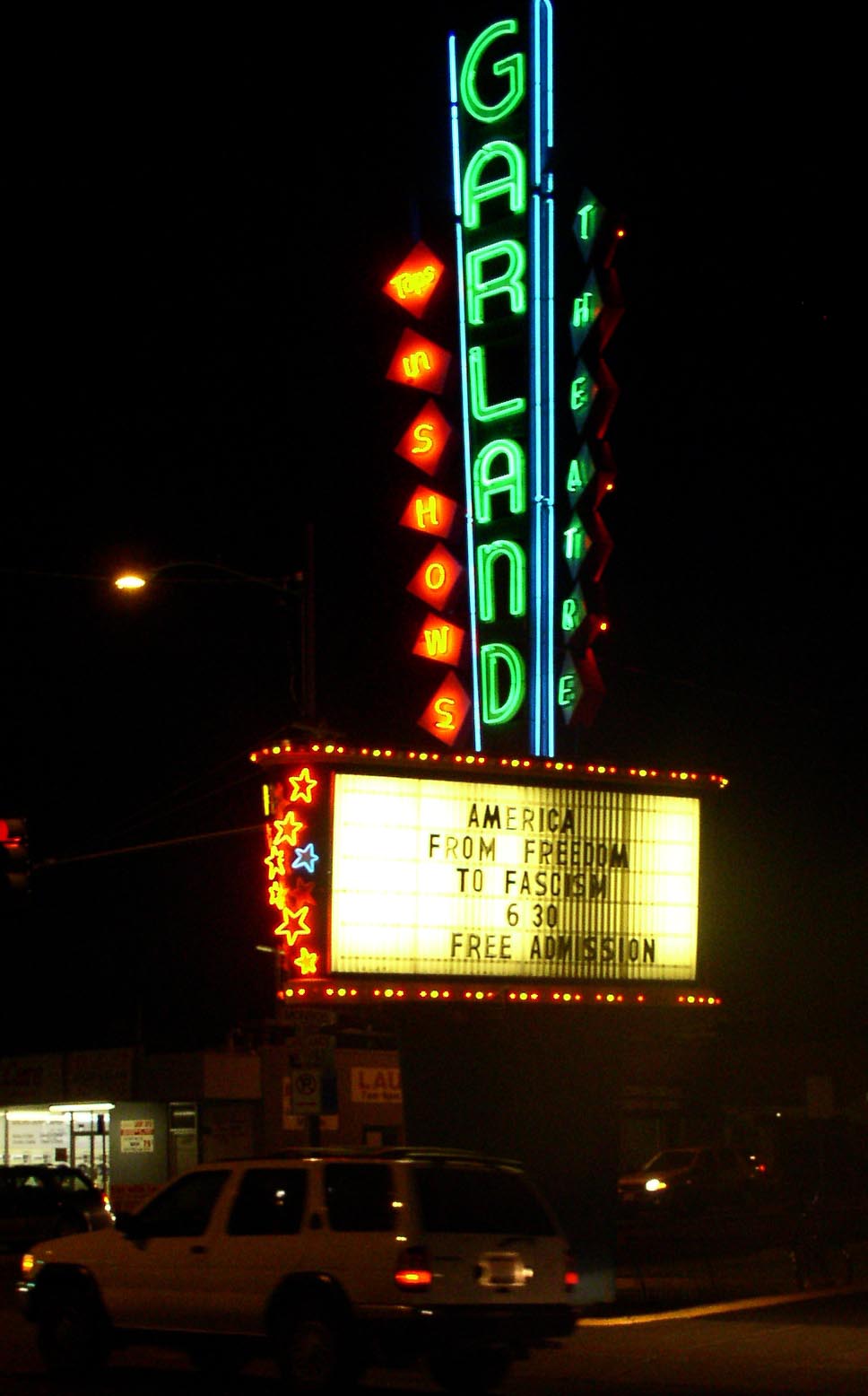 Garland Theater
Nearly 500 people from all over the Northwest U.S. converged on Spokane's historic Garland Theater for an advance screening of the feature-length documentary film "America: From Freedom to Fascism" Monday, March 13, 2006." The event, sponsored by We the People Foundation for Constitutional Education (WTP), served a dual purpose: To give the audience a sneak preview of the movie that could change America and to promote the group's "Right to Petition" lawsuit.
The IO helped to organize the special event hosted by WTP Founder and Chairman Bob Schulz who had shown the film to large, enthusiastic audiences in Medford, Oregon Saturday the 11th and in Portland, Oregon Sunday the 12th.
"The movie was excellent," commented several people who called The IO the following day. "If half the Americans who came out for Harry Potter saw this film, the IRS would not be collecting another penny of Americans' wages under the guise that they are taxable as income," commented another.
The film, the latest by Emmy-winning film producer Aaron Russo (The Rose, Trading Places and Wise Guys) was inspired by "We the People v. The U.S. Government—The Landmark Right-to-Petition Lawsuit to Restore Constitutional Order and Reclaim Freedom." WTP's presentation from the National Press Club in Washington, D.C., was broadcast live on C-SPAN July 19, 2004 and has been rendered into a 55-minute DVD available from WTP at www.givemeliberty.org.
Last August, a federal judge ruled that the people do have a right to petition but government is not obligated to answer. The lawsuit is currently in the U.S. Court of Appeals.
Russo attempted to present a fair and balanced report on the issues. But, unlike WTP spokesmen who are honest and forthright, government prefers to lie, play word games and misrepresent the facts. Instead of answering respectfully-filed petitions for redress of grievances, government states that it answers such questions by litigating them.
The premise of the film is that a cabal of wealthy industrialists and bankers who met on Jekyll Island in 1910 took control of this nation in a silent coup called the Federal Reserve Act of 1913. Since that time, Americans have been human resources to exploit, not citizens to be served and protected. Russo's argument is supported by statements made by both critics of government and government officials.
Freedom to Fascism will be entered in the Cannes film festival in May and is scheduled for national release and distribution by June, 2006. Go to www.freedomtofascism.com.