From the December 2005 Idaho Observer:
---
Bush caves to McCain torture ban amendment
Since April, 2004, President Bush has maintained that the U.S. does not torture detainees. But, for the last several months, the president has resisted Senator John McCain's (R-AZ) call for a ban on cruel, inhumane and degrading treatment of prisoners taken in Bush administration's war on terror. President Bush reversed course Dec. 14, 2005, and agreed that there should be a law preventing Americans from torturing prisoners. Regardless of the president's change of heart, the powerful pro-torture lobby is expected to campaign heavily to make sure a law preventing the U.S. from torturing prisoners will not be passed.
Note: Dec. 14 was a huge day in which many things were revealed—including the president's executive decree for unwarranted surveillance of certain individuals and evidence to suggest that the "McCain" amendment is just another deceptively-worded bunch of nonsense to make Americans think the U.S. is criminalizing the torture of terror war detainees when it's really "legalizing" the "right" to torture anyone in takes into custody.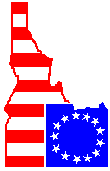 Home - Current Edition
Advertising Rate Sheet
About the Idaho Observer
Some recent articles
Some older articles
Why we're here
Subscribe
Our Writers
Corrections and Clarifications
Hari Heath
Vaccination Liberation - vaclib.org
---
The Idaho Observer
P.O. Box 457
Spirit Lake, Idaho 83869
Phone: 208-255-2307
Email: vaclib@startmail.com
Web:
http://idaho-observer.com
http://proliberty.com/observer/