From the November 2005 Idaho Observer:
---
The U.S. does torture its prisoners
TAYLORSVILLE, NC—Community activist Eddie Hatcher went to prison for eight years after taking over the local newspaper, the Robesonian, on Feb. 1, 1988. Though he took over the newspaper at gunpoint and held hostages for several hours, no one was hurt and he walked out with the newspaper's editor who was sympathetic to his cause.
Hatcher had uncovered mountains of evidence to prove that Robeson county government was run by murderers and drug dealers. Frustrated that he could get no one to investigate, prosecute and/or convict the county's organized crime syndicate, Hatcher hoped to bring attention to the problems in his community through a high-profile act of civil disobedience.
For his trouble, Hatcher was sent to prison where he contracted AIDS.
After his release, he went back to uncovering corruption. This time the syndicate framed him for the murder of a crank dealer and sought the death penalty upon conviction.
Though there is not one shred of forensic evidence linking Hatcher to the murder, his conviction was obtained from the testimony of one witness, a cousin, who claimed Hatcher admitted to the murder and asked her to drive him out of the area.
After talking to people close to Hatcher, it is apparent that the testimony was a quid pro quo. The cousin lied for prosecutors in trade for dropping criminal charges the county had pending against her boyfriend.
Though he was convicted, the jury would not grant the county prosecutors' wish that he receive the death penalty. Based upon what Hatcher has told us and conversations with others close to this principled activist, certain individuals have unofficially sentenced Hatcher to death anyway.
We had not heard from Hatcher, an IO subscriber, for over a year. We did not know what he was in prison for when we had been corresponding with him before. We generally do not inquire and let our prison penpals tell us why they are imprisoned when they are ready.
In a letter dated Oct. 27, Hatcher, now 43 years old, told us why it has been so long since he had written to us: He had been deathly sick for over a year.
Hatcher has been taking HIV drugs and pain killers for a decade. He had also been given something else, over time, that has scorched his entire intestinal tract. After losing 75 pounds and becoming so sick he could not get out of bed, he was finally sent to a specialist. "The 40-minute colonoscopy took 90 minutes. Afterward the doctor said my entire colon, bowel and intestines were burned to a crisp and that it looked like they had been torched. He added that I would never be able to absorb nutrients from food again," Hatcher wrote.
Hatcher asked the doctor if poison could have done the damage, but was unable to respond honestly in the presence of the two guards in the room "staring him down."
The doctor later told Hatcher's sister that her brother had either been poisoned or the HIV drugs they had been giving him had destroyed his insides.
A pathologist would be able to tell for sure. Thus far, no such testing has been ordered by the prison.
Since discovering that his tormentors have likely been accomplishing chemically what they could not accomplish with a jury, a death sentence for Hatcher, he has been writing as many letters as his failing health will allow. He prays, but does not ask God to heal him, but that he live long enough to expose these people for what they have done and see them punished.
Request
For a couple of years after his 2001 murder conviction, several people were working to help Hatcher overturn the bogus murder conviction. But, people get caught up in their own lives and the great government disappearing act becomes successful once again.
Because Hatcher, a Tuscarora Indian, took on corrupt local government and had no real support from his community, he gets a literal death sentence and the corruption deepens and spreads.
If there is someone out there willing to help, contact The IO or write to Hatcher directly. He needs someone to help him locate information and to inject fresh energy into his network of supporters. This man deserves our help. His current address is:
Eddie Hatcher #0173499, Alexander CI
PO Box 909
Taylorsville, NC 28681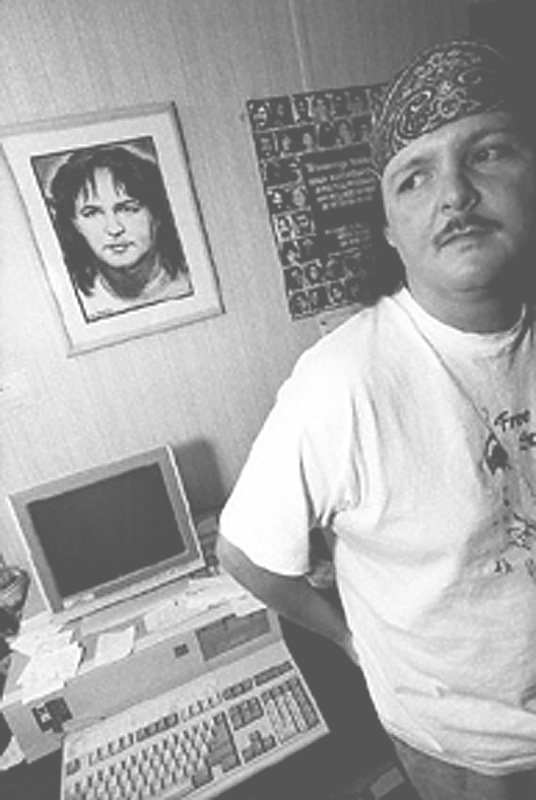 Eddie Hatcher before being sent back to prison— for life