From the August 2005 Idaho Observer:
---
Minuteman Project expanding from border to border; sea to shining sea
Since the Minuteman Project's first exercise between Naco and Douglas, Ariz., from April 1—May 1, 2005, proved to be such a resounding success in peacefully deterring undocumented illegals from Mexico entering the U.S., citizen Minuteman units have been forming to defend the southern border in California, Texas, and New Mexico. Units are even beginning to organize in northern border states.
Thus far, though federal and human rights groups' eyes are watching their every move, we can be proud of the dignified and compassionate manner in which these Americans have defended our sovereign borders.MinuteManHQ On Patrol:
In Four States All Month In October
Join fellow Patriot-Minutemen in October for a four state month-long Border Patrol to observe, report and protect the U.S. from illegal immigration in all southern border states.
MinutemanHQ.com is the new National Organization for the original Minuteman border project. It is the only group authorized by Chris Simcox and Jim Gilchrist who organized the first border watch.
Contact us immediately to learn about upcoming missions. We are expanding to California, Texas and New Mexico on the southern border. Requests from activated volunteers on the northern border with Canada – Maine, Vermont, Michigan, Minnesota, North Dakota, Idaho and Washington State are creating new operations, this is truly an exciting time for Patriots!
Congress and the U.S. Senate continue to drag their feet on securing our borders with U.S. military and National Guard troops. Meanwhile, thousands of illegal immigrants cross our southern border every week.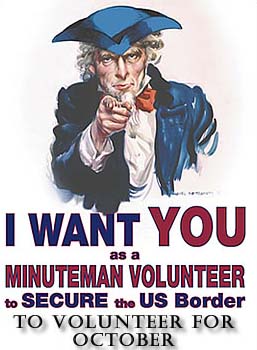 THE MINUTEMAN PROJECT IS JUST ONE OF MANY MULTI-ETHNIC GROUPS OF AMERICAN VOLUNTEERS ENGAGED IN THE PROACTIVE SUPPORT OF U.S. IMMIGRATION LAWS AND THE LAW ENFORCEMENT AGENCIES CHARGED WITH THE EXECUTION OF THOSE LAWS. PARTICIPATION IS OPEN TO ANYONE REGARDLESS OF RACE, COLOR, CREED, SEX, DISABILITY, AGE, ETC.
INQUIRIES FROM ANY LAW ENFORCEMENT OR MEDIA ORGANIZATION ARE WELCOMED.
THE MINUTEMAN PROJECT RECOGNIZES THE PRICELESS VALUE OF BOTH THE FIRST AMENDMENT AND THE LAW ENFORCEMENT ORGANIZATIONS THAT ASSURE THAT THE RIGHT TO PEACEFULY ASSEMBLE AND SPEAK IS PROTECTED.
WHILE THE MINUTEMAN PROJECT MAINTAINS A VERY PRO-MEDIA POLICY, SOME INFORMATION BLACKOUTS WILL APPLY DUE TO THE NATURE OF THIS PROJECT.
* Over 4,000 undocumented, illegal immigrants enter America each day.
* Estimates on the number of undocumented illegals living in America range from 10 million to 30 million