From the March 2005 Idaho Observer:
---
The Revolution will not be Televised
The U.S. government and its network TV, broadcast and print media mouthpieces has been conducting a campaign to demonize democratically-elected Venezuelan President Hugo Chavez as a ruthless, communist dictator whose best friend is Fidel Castro. Chavez detractors in the U.S. and in Venezuela are the owners and stockholders of corporations and their shills in media and government. His supporters all over the world are ordinary people whose primary desire is to live in a just society where they can raise happy, healthy children.
Since being elected in 1999, Chavez has made it difficult for the elitists to rape the natural resources of his country and treat the working class as slave laborers. Under his leadership, Venezuelans have a Constitution and a real voice in government for the first time—and they love him for it.
Chavez professes to be leading the Bolivarian Revolution, so named in honor of Simon Bolivar who led South Americans to freedom from Spanish rule in the 1820s. Now he is preparing his people to defend their country against invasion from the U.S.
Part of the Chavez story is told in a live-footage video called "The Revolution Won't be Televised." It is a truly inspiring story that real Americans can appreciate. See related stories below.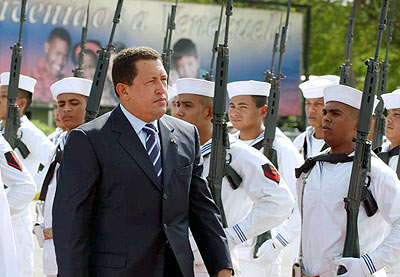 Chavez

Democratically elected Venezuelan President Hugo Chavez has declared his intent to only export oil to nations in the southern hemisphere and is arming and training his people to defend their nation against a U.S. invasion.