From the March 2005 Idaho Observer:
---
Courts, BNSF butt heads
Temporary injunction prevents refueling over aquifer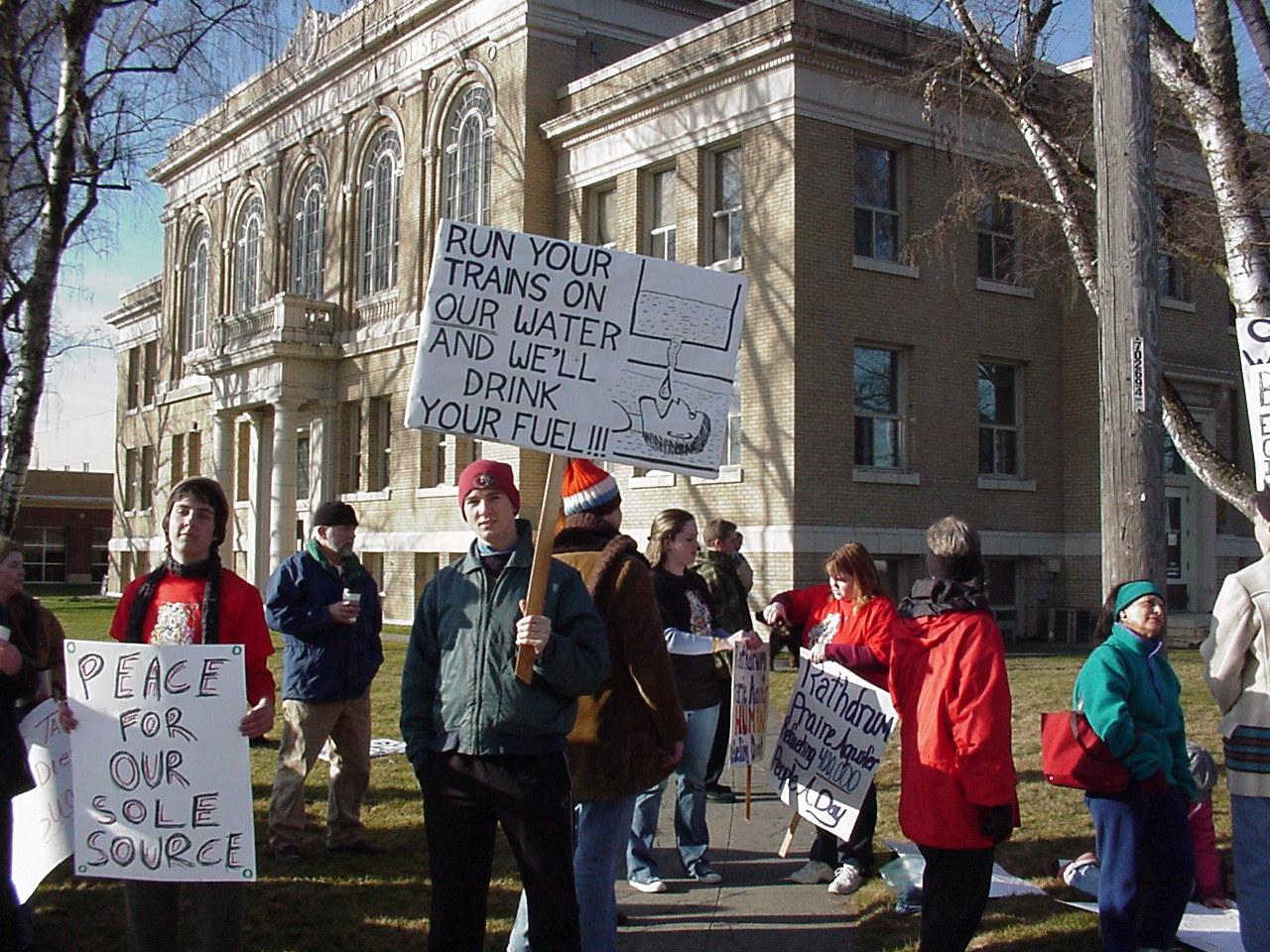 BNSF Protest
COEUR D'ALENE—Tens of thousands of greater-Spokane-area residents get to say, "I told you so" to Kootenai county commissioners who approved Burlington Northern/Santa Fe Railroad (BNSF)'s application to build a refueling depot over the sole source aquifer that provides drinking water for an estimated 500,000 people. Last February, diesel-contaminated water was discovered in two of the three containment barriers.
Due to lack of oversight on the part of county building inspectors, there is no way to check for contamination under the third and final containment barrier above the aquifer.
Amid overwhelming opposition from individuals, environmental organizations and government officials from Bonner, Kootenai and Spokane counties, and against the advice of federal regulators, county commissioners Dick Pannebaker, Ron Rankin and Dick Compton gave BNSF the green light to build its refueling depot in 1998.
The $42 million facility was closed by court order in late February. District Judge Charles Hosack entered a temporary injunction and ordered BNSF to continue hunting for leaks.
Concerned citizens are demanding a permanent injunction that will close the depot forever. That decision has been delayed until next month.
Meanwhile, area activists are waging a comprehensive public awareness campaign to help public officials make the right decision—this time—and close the depot before BNSF contaminates the entire aquifer.
Caption:
IO subscriber Patrick Martin of Dublin, Ireland (center), came out to help area residents support a decision by District Judge Charles Hosack to permanently enjoin the Burlington Northern Railroad from reopening its refueling depot after leaks were discovered.
The county approved construction of the depot in 1998 amid strong public opposition because of its location—atop 1/2 million people's drinking water. A decision has been continued to next month but a temporary injunction is in place.