From the February 2003 Idaho Observer:
---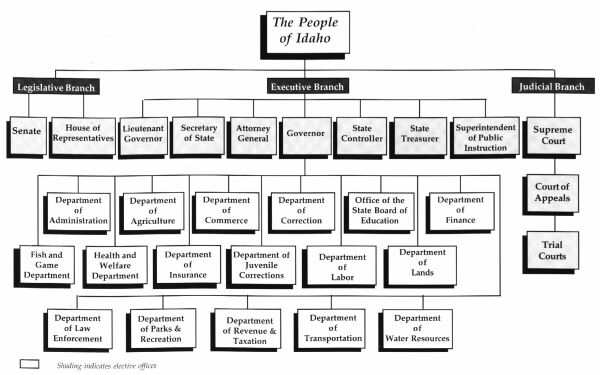 This flow chart was taken from the 2001-2002 Idaho Blue Book. Note there is no reference to the Department of Self-Governing Agencies though the department is decribed on page 70 of the same blue book.
See What Ya Git fer Payin' Yer Taxes?
Idaho has hidden, in plain sight, an agency within the executive branch of state government that has a very interesting name: The Department of Self-Governing Agencies. It is apparently under the executive umbrella of this "department" (which has no director, no address and no phone number) that the state of Idaho has continually expanded the size and authority of government.
by Hari Heath
Constitutional government might be a wonderful thing. Problem is, we ain't never seen it. How bad can it get? Government is supposed to be limited, but look at what them critters down in Boise did with just one paragraph of the Idaho Constitution -- Article Four, Section Twenty:
"DEPARTMENTS LIMITED. All executive and administrative officers, agencies, and instrumentalities of the executive department of the state and their respective functions, powers, and duties, except for the office of governor, lieutenant governor, secretary of state, state controller, state treasurer, attorney general and superintendent of public instruction, shall be allocated by law among and within not more than twenty departments by no later than January 1, 1975. Subsequently, all new powers or functions shall be assigned to departments, divisions, sections or units in such a manner as will tend to provide an orderly arrangement in the administrative organization of state government. Temporary agencies may be established by law and need not be allocated within a department; however, such temporary agencies may not exist for longer than two years."
This is where the lawyerin' comes in. See, this is from one of them newer Amendments that was no doubt written by a pack of lawyers. First it tells ya there can be only twenty executive departments of state government. This gets ya thinking that Idaho's administrative government is limited.
But the next sentence goes on to tell ya that "subsequently, all new powers or functions shall be assigned to departments, divisions, sections or units in such a manner as will tend to provide an orderly arrangement in the administrative organization of state government." This pretty much says go for it; just do it; have as much government as you people in government think you need.
The key phrase here seems to be "in such a manner as will tend to provide." Seems like them lawyers left a little hole that will "tend to provide" themselves and their friends with ample employment opportunities.
So is it gonna be only 20 departments or not? The state has a little flow chart of government that makes things look pretty good. It says the people are on top of everything (See flow chart atop page 19).
Them lawyer/legislators also defined what an agency is:
67-5201(2) "Agency" means each state board, commission, department or officer authorized by law to make rules or to determine contested cases, but does not include the legislative or judicial branches, executive officers listed in section 1, article IV, of the constitution of the state of Idaho in the exercise of powers derived directly and exclusively from the constitution, the state militia or the state board of correction.
So are there really only twenty "agencies" in the executive branch of Idaho state government? The 2001-2002 Idaho Blue Book, the Yellow Pages of state government, lists a few more than 20:
Department of Administration;
Division of Information, Technology and Communications Services;
Office of Administrative Rules;
Industrial Special Indemnity Fund;
Office of Insurance Management;
Division of Public Works;
Information Technology Resource Management Council;
Permanent Building Fund Advisory Council;
Department of Agriculture;
Division of Animal Industries;
Bureau of Feeds and Plant Services;
Bureau of Shipping Point Inspections;
Division of Agricultural Inspections;
Division of Marketing and Development;
Division of Plant Industries;
Sheep Commission;
Department of Commerce;
Economic Advisory Council;
Idaho Travel Council;
Science and Technology Council;
Idaho Film Bureau;
Board of Examiners;
Department of Education;
Division of State/Federal Instructional Services;
Division of Vocational Rehabilitation;
Department of Finance;
Financial Institutions Bureau;
Securities Bureau;
Supporting Services Bureau;
Fish and Game Department;
Natural Resources Policy Bureau;
Commission for the Blind and Visually Impaired;
Bureau of Disaster Services;
Endowment Fund Investment Board;
Division of Financial Management;
Human Rights Commission;
State Insurance Fund;
Liquor Dispensary;
Military Division;
Idaho Commission for National and Community Service;
Northwest Power Planning Council;
Public Employee Retirement System;
Idaho Rural Partnership;
Idaho Women's Commission;
Department of Health and Welfare;
Office of the Environmental Quality;
Bureau of Family & Children's Services;
Council for the Deaf & Hard of Hearing;
Bureau of Developmental Disabilities;
Council on Developmental Disabilities;
Council on Domestic Violence and Victim Assistance;
Bureau of Mental Health & Substance Abuse;
Bureau of Clinical& Preventive Services;
Bureau of Emergency Medical Services;
Bureau of Environmental Health& Safety;
Office of Health Promotion;
Bureau of Laboratories;
Center for Vital Statistics & Health Policy;
Bureau of Facilities Management;
Bureau of Financial Services;
Bureau of Management Review;
Division of Medicaid;
Bureau of Facility Standards;
Division of Veterans Services;
Office of Veterans Advocacy;
Division of Welfare;
Bureau of Child Support Services;
Bureau of Policy;
Bureau of Automated Information Systems;
Department of Insurance;
Department of Labor;
Administrative Services Division;
Appeals Bureau;
Field Services Division;
Unemployment Insurance Division;
Veterans Employment Service;
Department of Lands;
Fire Management Bureau;
Forest Management Bureau;
Bureau of Lands;
Bureau of Minerals;
Bureau of Navigable Waters;
Bureau of Private Forestry;
Bureau of Range Management;
State Board of Scaling Practices;
Idaho State Police;
Bureau of Criminal Identification;
Criminal Justice Information System Administration;
Bureau of Forensic Services;
Human Resources;
Idaho Brand Board;
Idaho Racing Commission;
Peace Officers Standards & Training Academy Administration;
Department of Parks and Recreation;
Idaho Parks & Recreation Board;
Development Bureau;
Operations Bureau;
Recreation Bureau;
Idaho Commission on the Arts;
Idaho Code Commission;
Department of Self-Governing Agencies;
Board of Accountancy;
Apple & Cherry Commission;
Athletic Commission -- Boxing;
Idaho State Bar;
Barley Commission;
Bean Commission;
Building Safety Division;
Dairy Products Commission;
Board of Dentistry;
Board of Professional Engineers & Land Surveyors;
Forest Products Commission;
Board of Professional Geologists;
Hispanic Affairs Commission;
Lottery Commission;
Board of Medicine;
Board of Nursing;
Bureau of Occupational Licenses;
Outfitters and Guides Licensing Board;
Pea & Lentil Commission;
Board of Pharmacy;
Potato Commission;
Public Works Contractors State Licensing Board;
Rangeland Resource Commission;
Real Estate Commission;
Certified Shorthand Reporters Board;
Idaho State Board of Veterinary Medicine;
Wheat Commission;
Tax Commission;
Department of Transportation;
Department of Water Resources;
Board of Accountancy;
Board of Acupuncture;
Council on Adolescent Pregnancy Prevention;
Aeronautics Advisory Board;
Commission on Aging;
Alfalfa and Clover Seed Commission;
Board of Architectural Examiners;
Board of Barber Examiners;
Bear River Compact Commission;
Beef Council;
Bingo/Raffle Advisory Board;
State Building Authority;
Uniform Building Code Advisory Board;
Canola and Rapeseed Commission;
Board of Canvassers;
Capitol Commission;
Children at Risk Task Force;
Children's Trust Account Board;
Board of Chiropractic Physicians;
Coeur d'Alene River Basin Commission;
Compliance Advisory Panel;
Board of Cosmetology;
Board of Professional Counselors and Marriage & Family Therapists;
Idaho Criminal Justice Council;
Criminal Justice Records Improvement Advisory Council
Deferred Compensation Committee;
Council for Purchases from Severely Disabled People;
Dormitory Housing Commission;
Drug Policy Advisory Board;
Education Commission of the States;
Western Interstate Committee for Higher Education;
Youth Education Account Advisory Committee;
Electrical Board;
Idaho Emergency Response Commission;
Environmental Health Specialists Examiners Board;
Board of Environmental Quality;
Governor's Coordinating Council for Families and Children;
Fish and Game Commission;
Food Quality Assurance Institute Commission;
Grape Growers and Wine Producers Commission;
Hazardous Waste Facility Siting License Application Review Panel;
Health and Welfare Board;
Health Facilities Authority;
Board of Hearing Aid Dealers and Fitters;
Historical Records Advisory Board;
Historical Sites Review Board;
Historical Society Board of Trustees;
Honey Advertising Commission;
Hop Commission;
Horse Board;
Idaho Housing and Finance Association;
The Idaho Humanities Council;
Idaho Law Enforcement Telecommunications System Board;
Statewide Independent Living Council;
Industrial Commission;
Infant and Toddler Interagency Coordinating Council;
Idaho Judicial Council;
Keep Idaho Green Committee;
Board of Landscape Architects;
Lava Hot Springs Foundation;
Legislative Compensation Committee;
Lewis and Clark Trail Committee;
District Magistrates Commissions (6);
Manufactured Home Advisory Board;
Mint Growers Commission;
Board of Morticians;
Motor Carrier Advisory Committee;
Motor Vehicle Dealers Advisory Board;
Natural Resources Conservation Income Tax Credit Committee;
Board of Examiners of Nursing Home Administrators;
Board of Optometry;
Pacific States Marine Fisheries Compact Commission;
Plant Pest Control and Research Commission;
Plumbing Board;
Board of Podiatry;
Potato Commission;
Board of Psychologist Examiners;
Public Employees Retirement System Board;
Public Utilities Commission;
Certified Real Estate Appraiser Board;
Rehabilitation Advisory Council;
Residential Care Facility Administrators, Board of Examiners;
School Building Safety Code Committee;
Sexual Offender Classification Board;
Smoke Management Advisory Board;
Social Work Examining Board;
State Soil Conservation Commission;
Board of Tax Appeals;
Multistate Tax Commission Advisory Committee;
State Council for Technology in Learning;
Commission on Uniform State Laws;
Water Resource Board;
Weatherization Policy Advisory Committee;
Western States Water Council;
Workforce Development Council.
There's a few more scattered in Idaho Code that didn't make the Idaho Blue Book:
Idaho Council on Indian Affairs;
Idaho Housing Agency;
Idaho Hall of Fame Advisory Board;
The Constitutional Defense Council.
The "Department"
Just how did they git all them agencies to fit in only 20 departments? The "Department of Self-Governing Agencies" gives us a clue. It's one of the 20 departments under Article Four, Section 20, but it has 49 boards, commissions, offices, and bureaus listed under it. And some of these are further divided into numerous divisions.
So who's in charge of the Department of Self-Governing Agencies? The title of the statute mentions a director, but there is no director position created by the text of the statute and there is no director, per se. According to Idaho Blue Book editor Marilyn Johnson, Bureau of Occupational Licensing Director Raola Johnson functions as director of the Department of Self-Governing Agencies.
The Department of Self-Governing Agencies was born after passing through the legislature and being signed into law by Governor Cecil Andrus in 1974. The department appears to be little more than a parliamentary maneuver intended to help the state cirvumvent the constitutionally mandated limit of only 20 departments. But what does it really mean when a single "department" has 49 boards, commissions, offices, and bureaus, some of whom have several more divisions? This question is further complicated when we discover that this "Department of Self-Governing Agencies" has no director of its own, no phone and no address. One must conclude the department is a sham akin to a dummy corporation formed for the sole purpose of making and end-run around the Constitution.
What we have here is one of the biggest make-work programs this side of the federal government. Many of these are well-paid positions with an extensive support staff and infrastructure. And we are expected to pay for it. But do we have to?
There's a dirty little secret the state doesn't want you to know about. Under Idaho Code 63-3030(a)(1), "Returns with respect to taxes measured by income in this chapter shall be made by...[e]very resident individual required to file a federal return under section 6012(a)(1) of the IRS Code."
Are you a "resident individual" who is required to file a tax with the feds? If not, you don't have to file with the state either.
The folks at We The People have a few questions the feds have refused to answer about the Income Tax. Why? Because, if the truth be told, the IRS and the Income Tax are a fraud which the American people have no obligation to participate in. And the state income tax piggy backs on fedgov's tax fraud. (Visit www.givemeliberty.org for the full story on what questions the fedgov won't answer and why you don't have a federal income tax obligation).
So what's cooking with this administrative soup in Boise? The governor wants to raise the sales tax 'cause he can't figure out how to balance the budget. Seems to me, if he cut back to the mandated 20 departments, he'd have the problem licked.
Instead, an ocean of agencies are makin' up any ol' excuse to give themselves a job at your expense. And there's no end in sight. See what ya git fer payin' yer taxes?
For a 114-page list of Idaho state agencies go to:
http://www2.state.id.us/search/AgencyListMain-2003.pdf