From the December 2002 Idaho Observer:
---
Clinical trials among healthy college students support smallpox vaccine public health disaster concerns
"As physical specimens, the Baylor University students were fit and healthy, the "crème de la crème," in the words of researcher Kathy Edwards. Yet when she inoculated them with smallpox vaccine, arms swelled, temperatures spiked and panic spread."
The paragraph above was from an MSNBC story that appeared Dec. 5, 2002. The story also recounted how college clinics in Iowa, Tennessee and California have reported adverse reactions in one third of smallpox vaccine recipients -- reactions that, in healthy young adults in the prime of their life, range from itchy arms and achy bodies to high fevers treated with antibiotics to address secondary infections.
Vanderbilt University physician Kathy Edwards is overseeing smallpox vaccine clinical trials using college students as guinea pigs in advance of the inevitable national mass smallpox vaccination campaign. Even Dr. Edwards was startled by the reactions. "I can read all day about it, but seeing it is quite impressive," she said. "The reactions we saw were really quite remarkable."
The results of clinical trials among healthy college students support concerns that a mass smallpox vaccination campaign will be a public health disaster. Regardless, "Federal health officials have proposed resuming vaccination in stages, beginning with as many as 500,000 hospital workers most likely to see an initial case. Later, as many as 10 million police, fire and medical personnel would be offered the vaccine. The Pentagon hopes to vaccinate 500,000 soldiers," said the MSNBC article.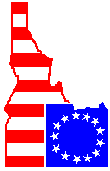 Home - Current Edition
Advertising Rate Sheet
About the Idaho Observer
Some recent articles
Some older articles
Why we're here
Subscribe
Our Writers
Corrections and Clarifications
Hari Heath
Vaccination Liberation - vaclib.org