From the August 2002 Idaho Observer:
---
Book Review:
Legal Abuse Syndrome by Karin Huffer MS, MFT
by Ingri Cassel
When I first heard about this book, I was intrigued to the point of wanting to review the book as soon as possible. After all, I do not believe there is an IO reader out there that has not been personally affected by the rampant corruption in our court system. What is unique about this book is it addresses the victims of legal abuse from a psychological, therapeutic perspective. Through the therapeutic techniques described in Legal Abuse Syndrome, victims are able to move beyond their current predicament and into a place of personal empowerment and positive action. If you answer "yes" to any of the following questions, this book is essential reading.
From the website http://Karinsclinic.net:
* Does being called to court strike fear in your heart?
* Are you struggling with the court system now?
* Have you been to court and come away wounded?
* Are you spending money to keep the legal monster away?
A metamorphosis of cross-purposes has created a court system monstrosity that devours the hearts, souls, and lifeblood of American taxpayers. You are a trusting civilized person who turns to the court for justice. You take your most severe and life threatening problems to a forum where you have been taught that evidence and truth can bring a rational solution to your problems.
You are shocked to be greeted by a hostile and exclusive environment where the transfers of property and strengthening of the economically powerful rules. According to Cynthia Williams, Law Professor at the University of Illinois, this philosophy pervades the bench leaving all values compromised to the economic theory. This means that good faith and fair dealing are no longer emphasized in our courts and the violation of law and contract is justified if the economic payoff is substantial.
Ms. Huffer has done a brilliant job discussing the effects of, and steps to recovery from Legal Abuse Syndrome (LAS) which is defined as a Post Traumatic Stress Disorder resulting from abusive and protracted litigation.
Anyone subjected to the abuses of the American civil justice system will immediately identify with the cover and praise from readers appearing on the back cover of the book.
Ms. Huffer begins the preface by defining LAS, and in the introduction identifies seven LAS victims whose stories she has woven into a highly readable self-help book for other victims of LAS. Legal Abuse Syndrome also doubles as a textbook for mental health professionals providing therapy to LAS victims.
The book is divided into 10 chapters. In chapters 1 and 2, the symptoms of the LAS victim and the etiology of LAS are identified. In chapters 3 through 10, the author breaks down the Eight Steps to Recovery consisting of Debriefing, Grieving, Obsession, Blaming, Deshaming, Reframing, Empowerment and Recovery.
Each chapter begins with a quote that sets the stage for the material presented.
Details of the seven LAS victim's stories illustrate the value of applying her Debriefing Worksheet and therapy so that recovery of one's health and life become possible.
All seven stories are not only true stories from Ms. Huffer's 20 years of experience helping victims of LAS but they are so incredibly moving, they will propel the reader to become involved in actively changing our dysfunctional court system.
Following are quotes from the back cover of Legal Abuse Syndrome:
"As a trial attorney for over 20 years (principally plaintiff cases involving legal malpractice) I can unequivocally state that this book is mandatory reading for everyone coming into contact with the legal system."
~Philip A. Putman, Esquire, B.A., S.M., J.D., Los Angeles
"The intangible health problems associated with the legal system in America have created a social malady. Physicians must respond now to this legal cancer which has driven this nation into economic and moral bankruptcy."
~ Cary Savitch, M.D., F.A.C.P., Assistant Clinical Professor of Medicine, U.C.L.A.
Legal Abuse Syndrome is 234 pages with an additional 33 pages in the appendix which includes a glossary of legal terms, the Debriefing Worksheet, how to assess post traumatic stress disorder, examples of legal forms to file, and resources to utilize in the final stage of recovery. Legal Abuse Syndrome is available from The Idaho Observer for $20.00 + $4.00 S&H = $24.00. To obtain a copy of this extremely valuable resource and recovery guide, send a check, Money Order or Liberty Currency to: P.O. Box 457, Spirit Lake, ID 83869.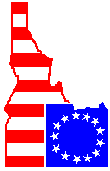 Home - Current Edition
Advertising Rate Sheet
About the Idaho Observer
Some recent articles
Some older articles
Why we're here
Subscribe
Our Writers
Corrections and Clarifications
Hari Heath
Vaccination Liberation - vaclib.org
It doesn't matter
It doesn't matter that I'm a taxpayer.
It doesn't matter that I'm an American citizen.
It doesn't matter that I'm a law-abiding person.
It doesn't matter that I was ripped off, violated and betrayed.
It doesn't matter that I was right.
It doesn't matter that I don't hurt other people.
It doesn't matter that I have the evidence.
It doesn't matter that the other person broke the law.
It doesn't matter that he or she is clearly guilty.
It doesn't matter that he or she is wrong by all moral standards.
It doesn't matter that my life is ruined.
It doesn't matter that a Constitution exists.
It doesn't matter that I'm living like a fugitive in my own country.
It doesn't matter that I'm a loyal employee.
It doesn't matter that I gave my life to the company.
It doesn't matter that I'm a veteran who offered his life for his country.
It doesn't matter that I paid more in attorney and legal fees than I earned this year.
It doesn't matter that I told the truth.
~Legal Abuse Syndrome
***
Note: But it does matter. "They" just want us to feel powerless in court. Volumes of books have been written on the subject of law and the abuses of law over several centuries. It seems that legal systems have an innate tendency to devolve to where nothing truthful or lawful matters. That is because there is money and power in the perpetuation of vice and misery and no profit in virtue. If "they" can convince us that virtue loses to vice then maybe we will throw our hands up and begin a life of sinning and suffering. It is our duty to stand for God and virtue regardless. (DWH)