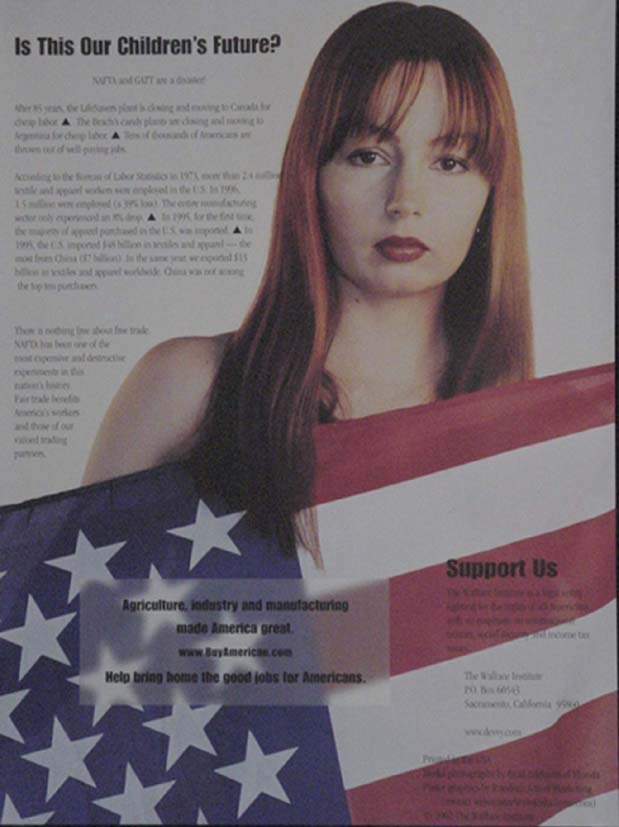 Is This Our Children's Future?
NAFTA and GATT are a disaster!
After 85 years, the Life Savers plant is closing and moving to Canada for cheap labor.
The Brach's candy plants are closing and moving to Argentina for cheap labor.
Tens of thousands of Americans are thrown out of well-paying jobs.
According to the Bureau of Labor Statistics in 1973, more than 2.4 million textile and apparel workers were employed in the U.S. In 1996, 1.5 million were employed (a 39% loss). The entire manufacturing sector only experienced an 8% drop. In 1995, for the first time, the majority of apparel purchased in the U.S. was imported. In 1995, the U.S. imported $48 billion in textiles and apparel -- the most from China ($7 billion). In the same year, we exported $13 billion in textiles and apparel worldwide. China was not among the top ten purchasers.
There is nothing free about free trade. NAFTA has been one of the most expensive and destructive experiments in history. Fair trade benefits America's workers and those of our valued trading partners.
Agriculture, industry and manufacturing made America great
Help bring home the good jobs for Americans
Support us
The Wallace Institute is a legal entity fighting for the rights of all Americans with an emphasis on international treaties, social security and income tax issues.
The Wallace Institute
PO BOX 69543
Sacramento, California 95860

Printed in the U.S.A.
Model photography by Brad Edelman of Florida Poster Graphics by Random Acts of Marketing
Contact (webmaster@vivienkellems.com)
© 2002 The Wallace Institute
(This text has been rendered into a provacative, full-color 18" x 24" full-color poster comes framed and covered in rigid plastic. Each poster costs $15 [quantity discounts available, includes shipping and handling]. Proceeds support the Wallace Foundation and its mission to help save America by awakening her people).