From the April 2002 Idaho Observer:
---
Meet Yinka and Vanessa Fasinro and the baby thieves of North Carolina
A note from the Fasinro family:
I just want to thank you for your support and prayers as we deal with DSS [Department of Social Services] concerning our baby. Our baby (Shaday) was returned to us after four days in a foster care home. I wouldn't want any parent to experience the horror we've been through and are still going through.
We took our child to the 2 week, 2 month, 4 month, 6 month and 9 month check up. At the 9 month check up, the pediatrician said to us that our baby must show weight gain in one month or else she would be forced to do some tests to find out why she is not gaining weight based on a graph she had. Our child was not bottle fed, but strictly breast fed at the time. Well, that scared us to the point that we decided not to return because the baby seemed normal, energetic, vibrant, etc... We didn't return for the one month return visit or the one-year check up.
About 5 days after her one year birthday, we got a call from the DSS agent demanding she see Shaday. I came home from work feeling like it's one big dream, but it was really happening. I got home, my wife and myself answered all her questions which a dear friend had advised us to do. We remember some of the questions were, "Why were the shades down; do we have food in the refrigerator," and; "where does the baby sleep?" We tried to answer all their questions as accurately as we could. The agent proceeded to walk about the house looking around. She picked up the baby, and then told us that she would go back to her supervisor and report. If anything was to happen, she will let us know.
Well, she called back for another visit. This time, she came with another lady that was supposed to be an expert in the field of child development. Before I got home from work, my wife had already let them in the house and they just interrogated my wife to the point of crying. They wanted to interview me separately but I refused without an attorney.
During the course of the second interview, the expert lied about how Shaday was "slow to thrive" and that she didn't have good reflexes because she had tried to have Shaday pull up from the carpet by offering Shaday her index fingers to use to pull up to stand. But Shaday would not. We both said that Shaday would not do it because they were strangers. They left and suggested that this investigation was serious and that we should get an attorney. We did.
But in the meantime, we found a different doctor for Shaday. We took her to him and he found that Shaday was perfectly healthy. The original pediatrician dismissed his results. Our second doctor requested Shaday's medical files and invited us in his office the second time for a more thorough exam. He checked for any sign of bad reflexes, under-nourishment, sickness, etc...but could not find anything wrong with her.
I called another doctor in Oklahoma City, OK. This doctor was familiar with vegetarian diets and found nothing wrong with Shaday.
Both doctors gave suggestions to help increase her weight, which was the only concern they had, but based on their evaluation, Shaday was a healthy child and developing well.
The agent called us several days later stating that the case was being transferred to "treatment" and they were giving us till the end of December to show that Shaday had gained weight. If she didn't gain, or if she lost weight, further action would be taken to insure her safety. We had to sign and date this treatment program.
We took steps to visit the doctor more times than we were asked to in order to make sure Shaday was really okay because it is more of our concern than it is the concern of DSS. We were "stuffing" Shaday to the point that we were afraid she would get sick due to the sudden change in her diet. We had no choice but to feed her like that. That was all the choice we had.
For DSS to take our child because of "neglect," which we just couldn't believe was the reason, was a total nightmare. My wife was 18 weeks pregnant, and they were asking how the unborn baby was doing, and how her doctor visits were coming along. We were wondering if they were going to take our baby when it was born.
On December 14, 2000, a DSS worker with her supervisor, showed up demanding my scared and nervous wife open the door to let them in. I told her she was right not to let them in because we didn't have an attorney present. I called on the same day to let them know it wasn't because we were hiding, but because we didn't have a lawyer present and that we went to another hospital for another check up to make sure all other results were right. The results came back that the child's blood was perfect. Again, a very normal child.
On December 15, 2000, in the morning, I got a call from the DSS supervisor claiming we were not cooperating and that we needed to make Shaday available. We said no again and that we needed an attorney present. My attorney was in court all day and I gave her his phone number to call, which she did, but she called back to claim the same thing that he was in court all day. She repeated her demand again, and I told her I couldn't allow her to see the child without an attorney.
She claimed that I was not cooperating and that I left her no choice but to have the judge sign a petition to have me appear in court to have the judge force me to cooperate. At about 7:30 p.m., I heard car doors and to my surprise, as I pulled the shades to look outside, I saw about 4 or 5 police cars in my driveway all spread out and four DSS workers in front of my house. They presented a signed petition from a judge to have the child removed at once. This was a far cry from having me appear in court to have me comply. Between cries, tears, sobs, pleads to keep this perfectly healthy child in a loving home of her parents, the child was forcibly removed that night. Shock, disbelief, sadness, and anger lingered all night.
With a terrified 15 month old baby, they drove to the hospital that night for a quick check up. Their result also confirmed a day earlier test which showed no problem. We contacted the commissioner office to report what took place and with swift action, the office began to be instrumental in the return of our child. When we got to the hearing four days after the baby was taken, DSS was willing to negotiate the return of our child the same day. I've heard that nine times out of ten, a child is not returned at the first hearing.
They gave us till anytime in December [2000], so we set the doctor's appointment for December 29th. But they didn't give us a chance. The baby did begin to show weight gain of one pound a week. We knew Shaday was healthy, but we just didn't want them taking her away so that is why we began feeding her a lot of food.
DSS violated the Privacy Act of 1974 by discussing our situation with family members and friends, and they were investigating us through our neighbors. They were not to have been contacted by DSS.
We returned to court January 22, 2001, to respond to all the false charges against us, but the judge granted more time to conclude the trial. We were very pleased with the way the trial went that day. There was only one witness for DSS that day which lasted two hours with no final decision from the judge. We had to return to court May 15, 2001, to complete testimony and hopefully to complete the trial. But, in the meantime, our child is with us but DSS has custody. DSS is able to mandate things like feeding our child formula, and they can vaccinate the baby...things we don't approve of as parents.
Please pray that God gives us favor in this situation and all charges are dropped and custody of Shaday is returned to us, as parents, with no strings attached. As you know, to retain an attorney is very expensive. Pray also that we have our needs met financially, also.
The judge has dismissed 12 of 13 charges. We are waiting on the ruling of the false neglect charge. The final hearing was October 9, 2001 and she was to rule three or four days later. It is now January 2002 with still no ruling. The judge wanted to hear several things pertaining to the charge, and we were able to satisfy the court with several evidences. We are finally done, but still waiting again for the ruling.
We have just received the ruling from the judge which has taken four months. In spite of all the evidences, Judge Harris ruled against us. We are planning to appeal the ruling. We will be headed to the Court of Appeals in Raleigh, North Carolina. DSS scheduled a hearing on April 19, 2002, with the conviction to close the case. With the appeal, we are not sure they will keep the April 19, 2002 hearing date. All they wanted was to close the case with a conviction. We really thought April 19, 2002 would be the day this nightmare would be over. We know now that this monster is still alive and well and is being fed by DSS.
We are working on a media blitz right now so we can keep the pressure on DSS not to change the April 19, 2002 date. Because on that date, they are to return legal custody of Shaday back to us. Without any public pressure, they will cancel the hearing and retain legal custody of our child.
I really hope you can help us. Thank you and God bless.
Yinka and Vanessa Fasinro
1101 Waldon Road
Charlotte, NC 28214-8444
Phone: (704) 399-6146
FAX # (520) 832-7865 (computer fax)
Email: ycleanair@yahoo.com

***
In the August 31, 2001, The Charlotte World published the article, "Custody Battles Pit Christian Families Against Legal System," which tells about the Stratton family whose 10 home-schooled, unvaccinated-children were removed from the home by The North Carolina Department of Social Services seven months ago and placed in foster care. One boy was molested and beaten (DSS returned him to the foster parent anyway); two kids were force-vaccinated (the oldest boy actually ran and was tackled, held down, and vaccinated). Judge Libby Currence said the kids could be returned if certain requirements were met: Get a homeschool certificate, a bigger house, steady employment (the couple said they fell on hard times but never lacked food or basic necessities), and regular medical check-ups. The family has complied with all four requests. The Stratton parents drove to Raleigh to get a stay on the vaccinations, which was granted. When The Charlotte World tried to contact Currence for comment she said she couldn't while the case was still pending.
To read the whole article, contact The Charlotte World at 704-503-6691.
~from Lisa Jillani of Parents Advocating Vaccine Education (P.A.V.E.), Charlotte, NC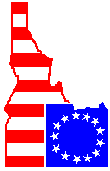 Home - Current Edition
Advertising Rate Sheet
About the Idaho Observer
Some recent articles
Some older articles
Why we're here
Subscribe
Our Writers
Corrections and Clarifications
Hari Heath
Vaccination Liberation - vaclib.org
A note from Virginia McCullough:
In ever increasing numbers America's parents are having their children stolen from them by the very people taxpayers pay to protect America's youngsters. In some states the agencies are called "Child Protective Services" and in other states they are referred to as "Department of Social Services." In all states these self righteous guardians of the young have the absolute power to rip a family apart.
Horrendous stories detailing child theft by these agencies have surfaced recently in Utah, Colorado and Oregon. The state of California sponsors its own Child Protective Services (CPS), renowned for its utter failure to protect children while repeatedly placing them in harm's way.
There is little the parents can do when social workers are protected by doctors, lawyers, and judges who form a prison wall around the child, excluding the parents, while protecting the agency at all cost. Over and over again the cost is the child.
Speaking about this unspeakable system, attorney Edgar J. Steele [Steele@PlainLawTalk.com] comments as follows:
A note from Ed Steele:
Problem is, in these custody cases, the state holds all the cards...and they have stacked the deck...and they are dealing from the bottom. Not that they need to, with all those aces stashed up their sleeve.
The rules of evidence do not apply. You are forced to deal only with the documents and witnesses the state provides. You have no right to conduct any sort of investigation. You have no right to have your child independently examined, once they seize him or her. A judge sits in sole judgment, without a jury. The proceedings are conducted in secret, away from the public eye. You are literally guilty until proven innocent. Problem is, there is never any way to prove your innocence.
On Thursday, March 21, 2002, several concerned readers forwarded me the following letter from Yinka and Vanessa Fasinro. The letter describes their experience with the Department of Social Services (DSS) in North Carolina. Picture yourself, Dear Reader, in their shoes.