From the February 2002 Idaho Observer:
---
Judge Baker's closing comments to Joshua Krawiek
NEWPORT, Wash. -- Last month Citizens Against Corruption founder Leonard Browning led 15-year-old Joshua Krawiek to the law and the charges against him were dismissed by Judge Rebecca Baker -- with a warning. She had no choice but to dismiss the case because he was being charged for a crime that does not exist. Read between the lines here. What did the judge really say to this young man?
Judge Baker: So, I would have to dismiss the information in this case, and I hope that maybe in the future we will have the -- let me just take this opportunity, Mr. Krawiec, Joshua, to say, you may think that this has been quite clever to beat this charge which is what you have done. I don't know whether this was controlled substances, or whether it wasn't. You do. You know. And you know with that hemp [actually jute] necklace around your neck what you are doing. And I think that it is something that you and your family need to address, but is going to be up to you and your family. It will be just a matter of time before you are caught if, in fact, you are engaging in the illegal use or possession of drugs or drug paraphernalia. Illegal use of paraphernalia or the illegal possession or use of drugs. The State has a very high burden of proof in some cases and some circumstances. I have no doubt but that if you are going to be involved in this, it is just a matter of time before you are going to be before the court again. I hope not. I hope that you will view this as something that was a break for you, if in fact you were involved with this. And that you will not use it as something that you are laughing up your sleeve at the system or anything of that nature, it is a very, very close call perhaps, depending. Of course, you know better than I do. All right, so this will conclude today's case.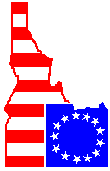 Home - Current Edition
Advertising Rate Sheet
About the Idaho Observer
Some recent articles
Some older articles
Why we're here
Subscribe
Our Writers
Corrections and Clarifications
Hari Heath
Vaccination Liberation - vaclib.org