From the August 2001 Idaho Observer:
---
Rail traffic as a primary economic indicator
By David Baker
"You can tell the state of the economy by how much rust is on the rail," is an old expression that is just as true today as it was during the depression era when it was coined. According to to Burlington Northern/Santa Fe Railroad records and reports from several of the nation's most prominent newspapers, our rails are getting rusty.
As reported in the Seattle Post Intelligencer July 17, 2001, "container traffic is down 8.7 per cent through May at the Port of Seattle to 543,047, from 594,716 a year ago. Container volume is down 2.1 per cent at the Port of Tacoma. And Seattle/Tacoma ports are not alone, as cargo traffic has fallen up and down the West Coast. At the Port of Long Beach in California, container cargo dropped 9.6 per cent in May 2001 compared to May 2000, according to the port's data."
When you consider that one loaded stack (container & trailer) train, of approximately 100 cars can carry 250 containers give or take 25 to 30, depending on their size, and container traffic is off 51,669 that's about 206 trains that didn't run in May just out of one port. June and July have not been much better either, and the forecast for the rest of the year, according to BNSF, is a drop in revenue, which means less traffic.
The article also goes on to say that, "The speculation is the U.S. economy, the consumer economy, has slowed a bit." But Bill Center, president of Washington Council on International Trade, says the strong U.S. dollar is the primary reason cargo traffic is falling.
In BNSF TODAY July 23, 2001, it was reported that total [train] carloads were off 31,208 from last year through July 21, 2001 with 961,321 units handled, compared to 992,529 units handled through July 22, 2000. Intermodal/Auto was off 52,726 units with 1,949,428 units handled through July 21, 2001 compared to 2,002,154 units handled through July 22, 2000. Cars containing coal/agricultural commodities were up 79,677, from 1,473,513 through July 22, 2000, to 1,553,190 through July 21, 2001. However, system totals this year were below last year's totals by 4,257 units handled so far this year (4,463,939 units this year compared to last year's 4,468,196).
Rail routes through the Northwest and the Inland Empire from Seattle to Chicago are part of what the railroad industry referrs to as the northern tier. Rail traffic in the northern tier is at an all time low. Where 60-70 trains a day used to run through Spokane, the Spokane yard averages between 25 and 35 trains per day. "On some days", commented a BNSF switchyard employee, " there may be 40 in a twenty-four hour period, but that is not the norm any more."
On July 24, 2001, Jonathan Landreth reported for Reuters (New York) that BNSF posted a 12.6 percent drop in second-quarter earnings and forecast a continued drop in revenue in the year ahead. BNSF told Reuters it expects third quarter revenue slightly below last year with a "significant loss" of business with automotive manufacturer General Motors Corp..
CEO Matt Rose said the company would "not hesitate" to downsize operations in order to increase profitability.
Reports of significantly decreased rail traffic come at a time when millions of Americans believe the nation's economy is strong because faith, speculation and the incessant manipulation of interest rates and money supply by the Federal Reserve have artificially kept stock market figures inflated.
"It's pretty spooky going to work and seeing an almost empty rail yard.... some of those east-bound trains we call "bare-table" trains because they aren't hauling anything but are merely headed through here to pickup empty containers, and some exports, you just have to wonder, who's lying to who," said the switchyard employee.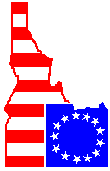 Home - Current Edition
Advertising Rate Sheet
About the Idaho Observer
Some recent articles
Some older articles
Why we're here
Subscribe
Our Writers
Corrections and Clarifications
Hari Heath
Vaccination Liberation - vaclib.org