From the June 2001 Idaho Observer:
---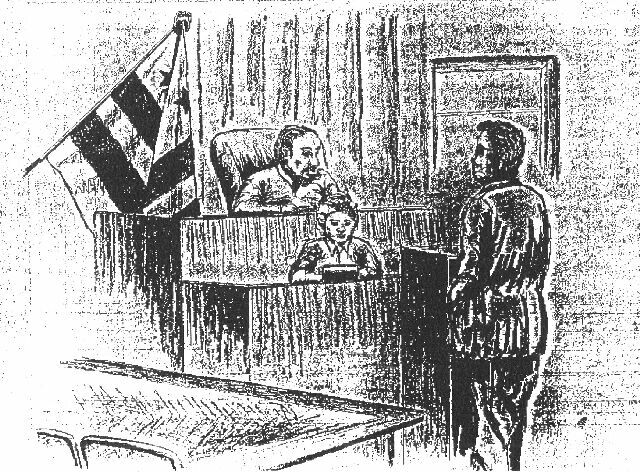 The end of the Yellow Brick Road:
You are now in the D.C. Court of Opinion
by Don Harkins
BOISE -- Gary A. Demott, 63, of the Idaho Sovereignty Association (ISA) was sentenced by Judge Edward J. Lodge to serve 9 years in a federal penitentiary for 12 counts of crimes associated with his attempts to prove that the federal income tax is illegal.
Also indicted and in various stages of trial and sentencing are Ava Gambler, Marilu Koehn, Miken Powell and Terry Roark, also of the ISA.
The paperwork states that Demott, et al, were legally processed in the UNITED STATES DISTRICT COURT, District of Idaho. However, according to Roark and Koehn, it appears that they had unknowingly been proceeding in the Court for the Territory of Washington D.C. Evidence that Demott, et al were being tried in the D.C. court became evident at sentencing. "At Gary's sentencing Judge Lodge was sitting in front of the Washington D.C. flag," said Koehn.
Demott, et al, were originally indicted June 28, 2000, under USC 18-371 (conspiracy to prepare and present fraudulent tax returns to the IRS), USC 26-7206(2) (Aiding and assisting preparation of false income tax returns) and USC 26-7203 (Willful failure to file income tax returns). All of their defense strategies were prepared as if they were to be heard in federal district court. "Finally, through the process of elimination, we discovered that we were not in federal district court at all and that we were in the D.C. Court," said Roark.
Demott is highly regarded by many people in what can be described as the "illegal income tax protest" movement. Even though Judge Lodge did not have the decency to tell him the rules under which he was being prosecuted, Demott apparently challenged the federal government to such a degree with his pleadings that it was forced to remove its red, white and blue stars and bars mask and replace it with the true flag which represents the corporation.
The trap
During a recent phone conversation Roark explained how people unwittingly end up in the D.C. court. First a civil lawsuit is opened up by the federal prosecutor's office in the form of a criminal complaint. The federal government then relies on the ignorance of the accused to acquiesce to being proceeded against in this perverse civil/criminal jurisdiction through the notion of "tacit consent."
In other words, because you did not know they were changing the rules means you have given your approval of them. "You have then stepped into the trap as the case can be converted into a criminal prosecution in a court where the rules of due process do not exist," said Roark
MY LITTLE RED RULES BOOK
Demott, et al, believe that the D.C. Court rules are found in a publication called "The Little Red Rules Book." In this book the first 10 rules of criminal procedure, the ones that outline due process (arraignments, complaints and summonses, for example), are omitted. Though the court may pretend due process, it is not obligated to follow it if you have, in your ignorance, tacitly acquiesced to this jurisdiction.
"They are using the cover of a federal district court to deal with state actions through the provisions of USC 4-112 (a) and (b)," commented Roark.
"No state shall, without the consent of Congress, ....enter any Agreement or Compact with another State..." says Article 1, Section 10 of the U.S. Constitution.
Conversely, Capitol Hill politicians gave us USC 4-112(a)(b) which allows federal legislation, created in the corporate United States headquartered in the District of Columbia, to be applied and enforced in the several states through unconstitutional compact. "Through this mechanism D.C. politicians are in agreement for inflicting their policies on the American people," said Roark.
Demott was found guilty last December 6, 2000. Sentencing, which was originally scheduled for February 5, 2001, was continued by Judge Lodge to May 25. It appeared that Judge Lodge was finding it difficult to sentence Demott in light of the brilliant case he presented to the court. The presence of the D.C. flag at sentencing indicated that Demott's defense may have been brilliant for district court but was no match for the D.C. "Court of Opinion." Regardless of the law, it is the "opinion" of the District of Columbia that Demott is a criminal. Demott was placed into custody and taken to jail immediately after sentencing.
Roark said that Demott, who filed his appeal immediately after sentencing, is satisfied that he was able to fight the federal government well enough that he forced the beast to show its true colors. "At least now we know," said Roark.
There are thousands of brilliant and dedicated Americans out there who are perhaps a step or two behind Demott in their understanding of the system.
Rather than having the hope that one day their efforts will be rewarded with cracking the code and being able to win controversial cases by arguing points of law through due process in district court, their brilliance will likely be rewarded by bars and concrete in the D.C. court of federal opinion.
Good luck.