From the March 2001 Idaho Observer:
---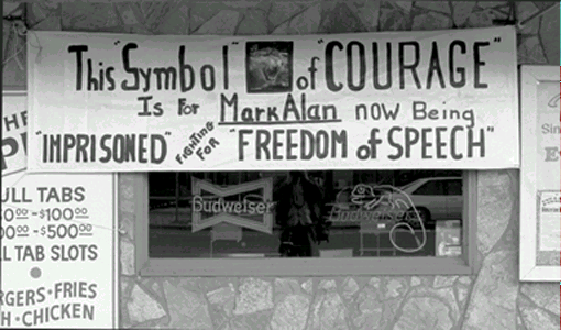 Photo by Gary DeVon, Okanogan Valley Gazette
Signs of civil disgust being posted across the nation
Send The Idaho Observer your sign
This is the most recent Pro-American banner to grace the storefront of Jed and Vickie Riddell's establishment "The Pub" on Main Street in Downtown Oroville, Wash. Oroville, like many other resource-dependent towns in the west, has been devastated by non-scientific federal land use policies of the last decade. Last summer, the Riddells posted a banner that read, "Last person to leave town give keys to environmentalists and bureaucrats." The Riddells are good, hardworking Americans who love their country and are not afraid to voice their pro-American sentiments. They have also taken time off from work by being in court to support Mark Alan as he braves the federal legal system as an American sovereign.
A few short years ago if you were to start up a conversation about the criminal nature of the IRS or corruption in the courts to a complete stranger while standing in line at the bank, the person would most likely move as far away from you as possible because he would have identified you as one of those "right-wing radicals" they had seen on TV.
To initiate the same conversation in the same bank today, you are much more likely to have chosen a topic of mutual concern and interest. I suppose we can thank the Clintonistas for that.
As more and more Americans find they are on common ground with one another regarding the incessant advancement of state and federal tyranny, we are finding the American countryside dotted with well placed signs of civil disgust.
All over the nation people are using their property or their places of business to publicly protest the oppressive activities of a government gone mad that are foreshadowing the decline and fall of the greatest nation in world history.
This is activism. This is the essence of Americanism. We are the sovereign, we are the proud, we are the free and we will not sit idly by as governments alienate our rights. God created us and we created governments.
There is no reason for The IO to search for a front page photo ever again. The American people are rising to the occasion. If you see a sign of disgust, send it to us. For whomever sends the photo chosen for the frontpage is a free 1-year subscription and our eternal gratitude for having enough of our Founding Father's blood coursing through your veins to believe that freedom still matters in 2001.