From the January 2001 Idaho Observer:
---
J.A.I.L. for Judges: Fastest growing citizen movement in America
Since Ron Branson gave birth to the Judicial Accountability Initiative Law (J.A.I.L.) for Judges last year, the concept has caught on like wildfire all over the nation. It seems that judicial anarchy has swept this country and citizens have taken it upon themselves to put an end to this oppressive epidemic. So far, 41 states have formed J.A.I.L. chapters, 22 of which have already managed to have the initiative placed on their respective states' legislative agenda for 2001 and six more are in progress. Only nine states have yet to form J.A.I.L. chapters.
J.A.I.L. States Roster
January 1, 2001
(* = Initiative State)
ALABAMA *
ALASKA *
ARIZONA *
ARKANSAS *
CALIFORNIA *
COLORADO *
DELAWARE
FLORIDA *
GEORGIA *
HAWAII
IDAHO *
ILLINOIS *
INDIANA
KANSAS (In process)
KENTUCKY (In process)
MAINE *
MICHIGAN *
MINNESOTA (In process)
MISSISSIPPI *
MISSOURI
MONTANA *
NEBRASKA *
NEVADA *
NEW HAMPSHIRE
NEW JERSEY
NEW MEXICO
NEW YORK
NORTH CAROLINA *
NORTH DAKOTA *
OHIO (In process)
OKLAHOMA *
OREGON *
PENNSYLVANIA *
SOUTH CAROLINA (In process)
TENNESSEE
TEXAS
UTAH (In process)
VERMONT
VIRGINIA
WASHINGTON *
Nine States Remaining At Large -- Yet To Be Captured For J.A.I.L.
CONNECTICUT
IOWA
LOUISIANA
MARYLAND
MASSACHUSETTS
RHODE ISLAND
SOUTH DAKOTA
WEST VIRGINIA
WYOMING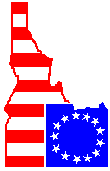 Home - Current Edition
Advertising Rate Sheet
About the Idaho Observer
Some recent articles
Some older articles
Why we're here
Subscribe
Our Writers
Corrections and Clarifications
Hari Heath
Vaccination Liberation - vaclib.org
---
The Idaho Observer
P.O. Box 457
Spirit Lake, Idaho 83869
Phone: 208-255-2307
Email: vaclib@startmail.com
Web:
http://idaho-observer.com
http://proliberty.com/observer/