From the July 2000 Idaho Observer:
---
Please pray for safety on our mission to Kenya!
Dr. Len Horowitz
As reported earlier this year in The Spirit of Health newsletter, Major Caleb Gwambo, Defense Department director for Kenya, called to personally thank me on behalf of the president and several of his colleagues for my efforts in writing and publishing Emerging Viruses: AIDS & Ebola -- Nature, Accident or Intentional? (Tetrahedron Publishing Group, 1996). He said that he had purchased 32 copies of the book, passed them out to the heads of state and, as a result, they and the president authorized the cessation of a World Health Organization experimental vaccine program ongoing at that time.
He then paid me the greatest honor of my life when he said, "Dr. Horowitz, from the bottom of our hearts we want to thank you for your contribution. You will never know in your lifetime, only in the hereafter, how many hundreds of thousands, if not millions, of lives you have personally saved by your work."
Since that time, several requests have come from Kenya, from Major Gwambo's office, from his colleagues in AIDS research directed by Dr. Basil Wainwright -- a world leading expert in oxygenation therapy, and from others including church leaders.
In June, I also received a call from Dr. Alim Muhammad, Minister of Health for the Nation of Islam, and personal physician to Minister Louis Farrakhan. Dr. Muhammad had just met with South African President Thabo Mbeki to discuss AIDS and the issues I raised along with the documentation in the book. I advised Dr. Muhammad of my upcoming peer-reviewed scientific publication entitled, "Polio, Hepatitis B and AIDS: An Integrative Theory on a Possible Vaccine Induced Pandemic," in the esteemed journal of Medical Hypothesis, and immediately faxed him a copy. The paper summarizes the critical facts and references in Emerging Viruses: AIDS & Ebola, and firmly establishes, for the first time in the scientific arena, the likely link between Litton Bionetics (the U.S. Army's sixth leading biological weapons contractor) and laboratory experiments and African chimpanzees used to develop the hepatitis B vaccine given to gay men in New York City and blacks in Central Africa in 1974-1975. According to a mass of evidence and official documents, it was those lots of hepatitis B that triggered the simultaneous emergence of HIV/AIDS in Central Africa and North America.
Dr. Muhammad relayed this paper to President Mbeki, and requested a meeting on my behalf.
The next day, Major Gwambo telephoned to tell me that he was very impressed by the contents of Healing Codes for the Biological Apocalypse (Tetrahedron Publishing Group, 1999). He requested that I travel to Kenya to meet with their national press, the president, and other government officials, in order to relay to Kenyan citizens and their leaders the urgent information concerning the apparent genocide that I discuss. I asked him if he had diplomatic relations with South African President Mbeki, and he said he did. I then suggested he relay to the presidents of Kenya and South Africa my desire to meet with them and their public health officers during a trip to Africa later this summer. The following letter stems from this telephone call.
I sent the letter on page 13 to Major Gwambo upon his request to begin formal invitation proceedings in an effort to relay my concerns regarding the blatant disregard by the American government, especially Dan Burton's congressional investigating committee, of certain vaccine contamination-related issues, as well as regarding the move by President Clinton to place HIV/AIDS science and education under National Security Council and Central Intelligence Agency direction (See article entitled, "CIA Oversees 'War on AIDS.'")
For obvious reasons, as you will read, I asked Major Gwambo, a God-loving Christian, for his "protective prayers," as I prepare now, with Dr. Valerie Saxion, to depart on a spiritual and educational journey to Kenya. I ask for your prayers as well, to summon the protective angels we will need to make our way safely and comfortably from the U.S. to Central Africa and back again to our families. Please mark on your calendars the dates August 7-12, to contact your family, friends, and spiritual/religious congregations, to pray for our successful mission in Africa, as well as our safety, protection, and health along the way.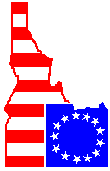 Home - Current Edition
Advertising Rate Sheet
About the Idaho Observer
Some recent articles
Some older articles
Why we're here
Subscribe
Our Writers
Corrections and Clarifications
Hari Heath
Vaccination Liberation - vaclib.org