From the April 2009 Idaho Observer:
---
Pastor beaten, tortured and tasered at interior AZ security checkpoint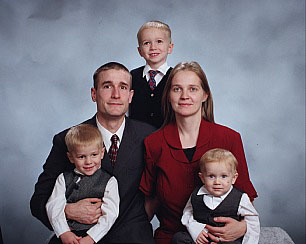 Pictured is Pastor Steven Anderson of Tempe, AZ, with his wife and children.
Pastor Steven Anderson of Faithful Word Baptist Church of Tempe, Arizona, was tasered several times, beaten and tortured April 14, 2009, by Department of Public Safety (DPS) representatives of the Arizona State Police and the U.S. Border Patrol at a "suspicionless" interior Border Patrol checkpoint on Interstate 8 approximately 75 miles east of Yuma between San Diego and Phoenix. Officers ordered Pastor Anderson to open his trunk for inspection claiming their dog alerted, meaning that he either had drugs or bodies. Anderson politely refused and requested that they bring the dog back to check again. Rather than comply with Pastor Anderson's respectful request, the officers got hostile. They bashed his windows, pulled him out of his car where they ground his head between jackboots and glass and began tasering him though he was not resisting. All the time the officers were laughing, mocking and saying insulting things to him while he begged for mercy. Then while he tried to be silent, they continued to beat and torture him. They then drove him 70 miles back to Yuma, took him to an intermediate care center where he was finally allowed to use the bathroom after several hours. Blood had been streaming down his face from the wounds in his head the entire time; it took 11 stitches to close the cuts in his scalp.
Pastor Anderson was then booked into Yuma County Jail where he spent the night and was released the next day. All that was found in his trunk were tools.
What apparently set the DPS agents off was that Pastor Anderson cited the 4th Amendment pertaining to searches and seizures without probable cause. Perhaps the officers had read the Department of Homeland Security report on "rightwing extremism" and figured that they were protecting the homeland from a pastor who believes Americans have rights under the law?
As of this writing, Pastor Anderson awaits arraignment and will plead innocent. DPS officials claim that an investigation of the officers' conduct is underway and decline to comment at this time. However, a recent Supreme Court ruling grants law enforcement tremendous leeway while performing their duties within 100 miles of the border.
Welcome to New America.